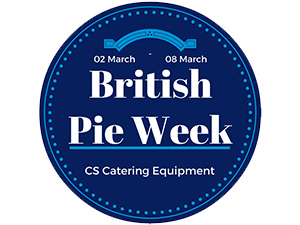 Research suggests that 75% of the UK population enjoy tucking into a pie at least once a month and, luckily, British Pie Week is on the horizon.
Despite the rise of exotic cuisines and trendy diets, a good pie is still a favourite of the nation. Be it pork, steak and ale, vegetable or a traditional Bramley apple, a pie, we feel, is to be applauded and placed upon a pedestal.
With people predicting that classic British foods are expected to undergo a renaissance this year thanks in part to the rise of street food and pop-up catering carts, British Pie Week has fallen at a perfect time for those in the catering trade.
Starting on the 02nd March and running for seven days, the week long event will give restaurants, cafes, caterers and producers alike the chance to to celebrate and promote pie par excellence.
We'll be publishing a few articles over the next few days highlighting products and recipes that will ensure you'll get the most out of the event and the best place to start is at the front of house.
…continue reading Get the perfect crust for British Pie Week