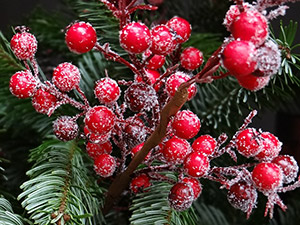 Already in this series we have discussed how to install a traditionally festive ambiance in your restaurant or cafe this Christmas period and how to up-style your urban and minimalist establishment to fit this time of year, but in this piece we are embracing those who just love to sing and shout about December 25th.
We have dubbed this as an 'overt' style, though the designs on show here are never overbearing – a key point to remember.
Here the traditional colours of reds and greens are used – along with soft creams – but these base tones are then accentuated with the presence of familiar Christmas tropes on accessories such as napkins, tablecloths and other decorations.
Read on to see how we suggest decorating your restaurant by using printed napkins and tablecloths, but without being haughty, this winter.