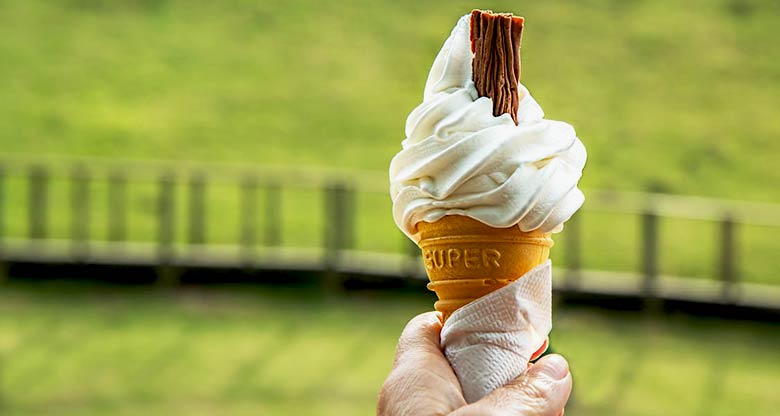 The start of summer means that the ice cream and gelato parlours of the United Kingdom are going to be jumping with joy as they fill with punters looking to cool off in the (hopefully) hot weather.
As far as sweet treats go, there sometimes is nothing better than a cool ice cream cone with a dollop of your favourite flavour.
But some have to take it way to far in a bid to out-do one another, so here we are going to chronicle some of the most crazy ice cream flavours ever concocted. Trust us, you probably wouldn't like any of these terrible tasting ice abominations…
Most were probably created as some sort of publicity stunt, which raises questions in itself…surely if you're ice cream was the best in town, then you wouuldn't need to craft some outlandish flavour to entice the intrepid eater?
But in truth, as weird and wacky as some of these flavours are, we as a nation are actually in the midst of a shift away from the traditional staples of ice cream.
Research conducted in the last few years indicated that the British public were beginning to embrace a raft of new varieties such as grape, honey and, bizarrely, beetroot. The strange flavours of ice cream which made this list are certainly more left field than those, would you think to give them a try anyway?
At the very least you might get some much lauded publicity out of it…
Bacon
Everything tastes better with bacon, right?
Famed American chef David Lebovitz is widely credited with popularising this meaty flavour of ice cream. To create it, he coated a few rashers of bacon with brown sugar, before blending and mixing it with vanilla and a shot of rum.
Strange? Potentially – it's certainly not your standard strawberry. But it's got us salivating and just think of it lathered in maple syrup.
Blue Stilton
There's nothing wrong with a strong piece of stilton, especially if it's served with a slice of freshly baked bread or stuffed inside a roasted chicken breast. But as ice cream?
It's been described as 'like a strong cheesecake', and is actually available to buy from a couple of online and high-street retailers.
Fish and chips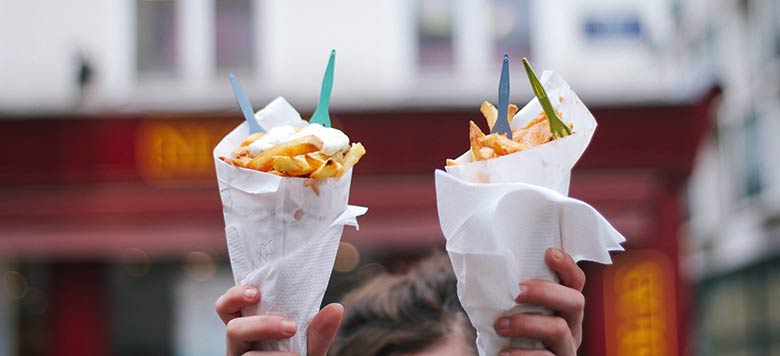 One London-based fish bar went out and created ice cream fish and chips, because that's what the world needed that day.
Cod ice cream is covered in pepper and vanilla flavoured batter and deep-fried, before being paired up with potato flavoured ice cream.
But, if you think this entry ends there: You'd be wrong. One Whitby ice cream parlour went one further and added mushy peas into the equation. Lovely… (We're not fans of mushy peas in this parish.)
Horse
Yes. Horse.
Sold by Basashi Ice, a Japanese confectionary manufacturer, this weird variety of ice cream is readily available in a number of street markets. And before you ask, we have been told if does feature chunks of blended horsemeat………..
Horseradish
Bruce and Mark Becker are New York legends, known for their unnerving ability to create some strange flavours of ice cream and sell them to the passing public. It's reported that they've created some 5,000 different varieties throughout their illustrious careers, including horseradish.
It's reported that they've created some 5,000 different varieties throughout their illustrious careers, including horseradish.
Lavender
More commonly associated with cosmetics such as bathing products and fragrances – which is why it's in this list – lavender has also been used in salads and dressings, and to flavour certain teas. So it isn't really a shock when Jeni Britto, the cookbook author, opted to make some lavender ice cream.
"Lavender was one of the first flavours I made," she says.
Purple in colour and with an enticing aroma, it's a really vibrant and attractive looking (and tasting!) dessert.
Lobster
The Northeastern states of Maine, Rhode Island and New Hampshire serve up some of the best shellfish in the world so it's no surprise that a few establishments in that part of the world have tried their hand at maritime inspired ice cream. Take Ben & Bill's, for example. The Maine-based group have received nationwide attention in America for their lobster flavoured ice cream.
It's pretty good too, if you read the reviews!
Mustard
Mustard ice cream is brainchild of celebrity chef and madcap molecular scientific cooking Heston Blumenthal.
I don't think we need to explain this much further.
Snake
Another concoction dreamed up by the Japanese, this frankly weird flavour is available to buy from Ice Cream City, a themed indoor area which pays homage to our favourite frozen dessert.
Countless options are available in this Tokyo tourist attraction. If you don't fancy snake you could always try squid or yakisoba, a type of fried noodle.
Anything and everything
A number of places will whip up any flavour of ice cream you want. So what crazy type will you come up with?
Maybe you want to have a go at making some ice cream horror combos of your very own? Or are just content with the classic vanilla? If so then we can help you get your customers screaming for your ice cream with the addition of a dedicated ice cream maker!
Share