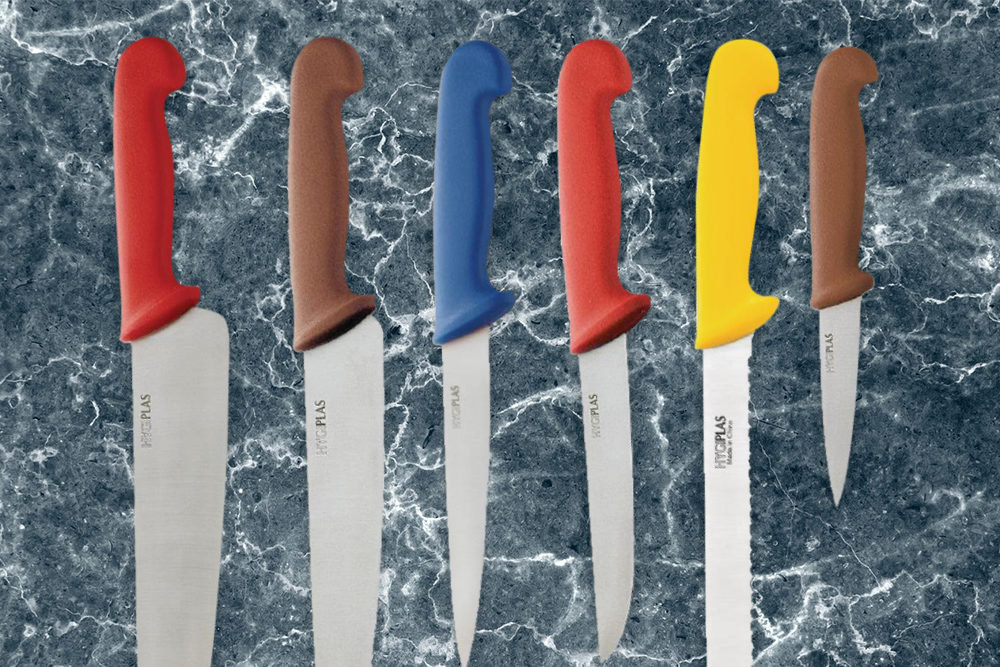 A well run and organised commercial kitchen space needs to be streamlined, safe and incredibly clean. Not only to meet hygiene standards, but the exacting demands of the 21st-century consumer.
Colour coding is a crucial part in preventing cross contamination between different food types, including raw and cooked foods that could cause food poisoning.

Preventing food contamination is an important job that anyone who prepares or cooks food and drinks should always be conscious of.
Utilising the simple idea of colour coding can help your reputation as a business too; as it can benefit things like your food hygiene rating.
In a world of internet and social media, a lower than usual hygiene rating can be shared with your local customer base fast. This is something that can be helped, in part, by keeping organised with a colour coding system.
Where do you begin? A great place to start is knives and cutting boards. Both raw and cooked foods are prepared on cutting boards, including things like raw meat, raw fish, cooked meat, vegetables, bread and dairy products.

Knives and Cutting Boards
The wide variety of types of foods makes cutting boards and knives a risky area where cross-contamination could easily occur. The use of colour coded knives and cutting boards, as well as a suitable wall chart can help your catering team avoid cross contamination. It's done by only using knives and boards for the food types they are labelled for.
This is also relevant when it comes to catering for a vegetarian diet, vegan diet or people who follow food traditions like Halal or Kosher diets.
Purple colour coded knives and chopping boards are generally used for Gluten free products to prevent cross contamination.
Tongs and Serving Cutlery
Tongs are very handy – ideal for grabbing cold, hot, wet or dry foods and moving them elsewhere. They're ideal for speeding up the preparation processes or for serving food directly to your customers.
However the ease of use can also be their downfall, as it's also easy to cross-contaminate foods with a pair of tongs or other serving cutlery. Colour coded tongs can help prevent this occurring.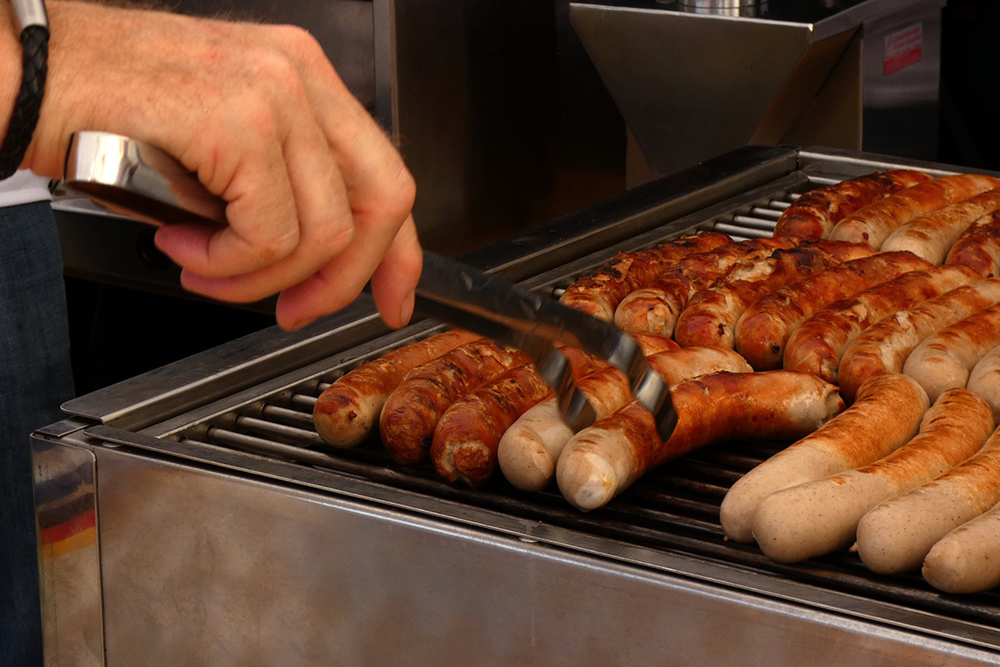 Food Labelling
Another key aspect of storing food is labelling – ensuring spoiled food is not used and that staff can easily see what kind of food is in a container. Allowing them to see how much shelf life it has left, and when to throw it away.
Utilising colour coded labels helps your team quickly identify the foods that can be used or that need to be thrown away, simply by colour.
It can also be used to ensure that people with allergies or gluten intolerance can be kept safer and make more informed decisions, by ensuring your catering team and customers are fully aware of the contents of food containers. This can be done using handy food allergy labels that make it clear if there are any potential allergens, such as Gluten, Crustaceans, Peanuts and more.
Cleaning Equipment
Another way that bacteria can spread and cause contamination can be through the cleaning equipment you use. Colour coding this equipment can help avoid the transfer of harmful bacteria by simply keeping equipment separated into areas of the building.
For example, having dedicated colour-coded mops, cloths, brushes and spray bottles separated into sections:
– Green: Food and Bar Use
– Red: Toilets, Washrooms and Sanitary Areas
– Blue: General Low Risk Areas
Colour coding your kitchen can help keep your work space organised, clean and hygienic. It's worth establishing a colour code and rules about how the equipment is used, and how food is stored. Preventing food contamination and food poisoning is a crucial part of your day to day processes.
Share