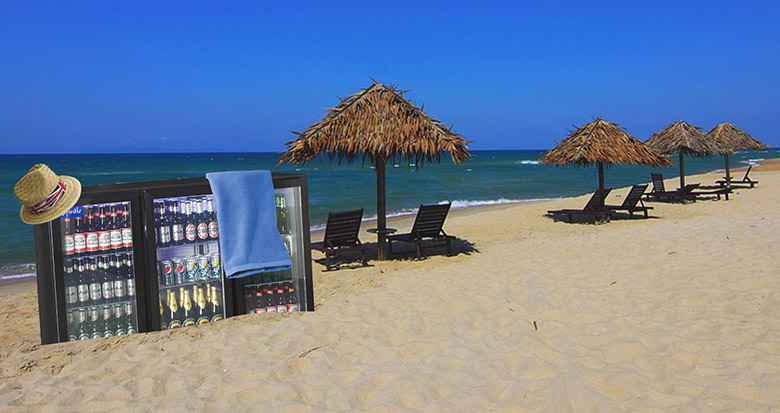 Are you bottle coolers and beer fridges in need of a long rest? Are they literally on their last legs?
We're reaching that time of year when customers are craving cold drinks, and with yet another Bank Holiday just around the corner we want you to have everything in order before the busy period starts!
So if you haven't already take a good look at your current cold drink storage option! Is it time it took a well-deserved break?…
For bars, pubs. clubs, restaurants and cafes having access to a quality fridge to store your cold drinks is one of the most important equipment selections you will likely make.
Not just a storage option, a beer fridge is a dedicated sales aid that gives you the perfect platform to showcase your well-sourced beer, wine and cider selection; enticing customers to order another drink.
With crystal clear doors, plenty of storage space and made from quality components, these units are specifically designed for front-of-house placement.
Right there in your customer's eye line, a good selection of drinks and a quality beer fridge can boost your profits throughout the spring and summer months.
Of course, a standard fridge can accomplish the same thing, but without the added efficiency benefits, presentation options and a flexibility.
Nightclubs and bars that serve only a small selection of drinks might be better off with a bottle cooler, with sliding top chest-style options allowing staff to dip in and grab the necessary drinks before corking and serving – these can prove to be invaluable in busy bars and clubs on weekends and during events.
Shops and supermarkets utilise the power of upright bottle coolers for soft drinks and more, providing consistent temperatures and incredibly easy to manage, a bottle cooler could be invaluable to your business if beer is not one of your key products.
Ahead of any Bank Holiday weekend, we definitely suggest taking a good look at your equipment and make sure everything is in working order as ourselves and many other catering equipment suppliers will be unavailable.
The last thing you want to happen is to be without a fridge during one of the busiest periods of the year!
To see our full beer fridge and bottle cooler selection, then please click here, we stock options from all the biggest brands including Blizzard, Gamko, Interlevin, LEC, Polar, Prodis and much more!
If you would like to speak to a member of our team about the options available and how they can benefit you, then please give us a call on 01977 687 665.
Share