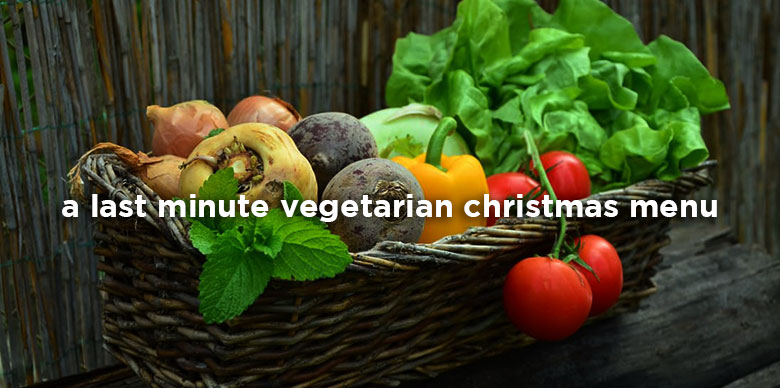 Not all of Great Britain will gorge on meat during this winter season, you might have made some seasonal adjustments to your menu to account for the colder weather and of course Christmas period.
But did you consider the implications on your vegetarian options? Have you made any changes to suit this customer base?
Well if you hadn't, or needed inspiration as to what to offer, then you've found the right place! This last minute vegetarian Christmas menu might be just what you need.
For many the thought of another nut roast this Christmas is enough to drive them stir crazy, so we promise there won't be any nut roast recipes to ruin this Christmas season!
Starters/Appetisers
Curried lentil, parsnip and apple soup
The wonderful combination of spice with the seasonal root vegetables and sweet apple make for an incredibly warming, and moreish soup.
Even better still, this soup can be frozen after preparation and then reheated as required.
Please note: This dish is 100% Vegan unless accompanied or served with fresh yoghurt.
Ingredients
2 tbsp sunflower oil
3 tbsp medium curry paste
2 medium onions, roughly chopped
500g parsnips, peeled and cut into chunks
140 dried red lentils
2 Bramley apples (approx 400g), peeled, cored and cut into chunks
1½ litres vegetable stock, made with 1 stock cube
natural yoghurt (to serve)
chopped coriander and chili(to serve)
Method
Heat the sunflower oil in a large saucepan, before frying the curry paste and onions together over a medium heat. Fry for approximately 3 minutes.
Add the parsnips, lentils and apple pieces.
Pour in the stock and bring the mixture to a simmer.
Cook at at a reduced heat for around 30 minutes, stirring occasionally until the parsnips and apple are soft, the lentils should be mushy.
Remove the mixture from the heat and blitz with a stick blender until smooth. If using a food processor, allow to cool for several minutes before blending.
Season to your tastes.
Heat through before serving with garnishing with coriander, chili and/or natural yoghurt.
Not all appetisers have to be boring! Even more so when you've got a wealth of quality ingredients to make a vegetarian Christmas feast.
Although not a Vegan option, these simple little nibbles are incredibly moreish for all!
Ingredients
2 tbsp butter
2 crushed garlic cloves
2 tsp garam masala
2 x 80g bags washed baby spinach
2 x 250g packs halloumi cheese
4 naan bread
Method
Warm the butter in a large pan with the crushed garlic cloves and garam masala.
Roughly chop the spinach and add to the melted butter and spices.
Cook until the spinach has wilted, then season to add taste.
Cut the halloumi and grill the tops until golden brown.
Heat the naan bread under a grill – just to warm through – the spread with the spinach mixture.
Evenly distribute the grilled Halloumi over the bread, then cut the bread to fit each slice of cheese, and secure with cocktail sticks. Serve warm for the best experience.
<
Pasta at Christmas? Yes, but this is a superb dish no matter the time of year, incredibly filling but devilishly moreish…
Ingredients
450g butternut squash, peeled and chopped
25g butter
Grated nutmeg
25g vegetarian Parmesan or Parmesan-style cheese, coarsely grated
For the porcini dresssing
1 tbsp finely chopped dried porcini mushrooms
2 tbsp olive oil
1 tsp balsamic vinegar
2 tsp soy sauce
To serve
Saffron
85g chestnut mushrooms, quartered
1 fat garlic clove, shredded
100g bag baby spinach
4 sheets fresh lasagne, halved
shavings of Parmesan (or vegetarian alternative)
Method
Put the squash and butter in a pan with 5 tbsp water.
Tightly cover the pan and cook for 15 mins until the squash is just tender, but not coloured.
Roughly mash after seasoning with nutmeg and Parmesan.
Meanwhile, to make the dressing, put the chopped porcini mushrooms in a small bowl with 3 tbsp of boiling water.
Cover with cling film and cook for 1 min in the microwave on High, then leave to cool.
Mix 1 tbsp oil with the vinegar and soy, then add the soaked mushrooms with almost all the of the liquid (leave the last drop behind as it might contain grit)
To serve, boil a pan of water with the saffrom and some salt for 5 minutes to extract some colour and flavour.
Meanwhile, fry the mushrooms in the remaining oil. When they are nearly cooked, add the garlic so that it browns and crisps, but doesn't burn.
Pierce the bag of spinach and wilt in the microwave for approximately 1 minute.
Reheat the squash in the microwave as necessary at this point.
Boil the lasagne for 1 minute until just tender, then drain.
Place 3 small piles of spinach on 2 warm serving plates.
Top each with a a square of lasagne sheet, then a spoonful of squash – spread it out a little, before adding a few spinach leaves.
Top this base layer in the exact same way until 4 layers have been stacked on the plate.
Garnish with the garlic mushrooms and sprinkle with Parmesan and serve.
Squash and blue cheese Wellington

Pastry, cheese and the delicious squash combine to make a throughly filling and hearty meal for all those who come for lunch.
If you don't want to make the pastry yourself, it's incredibly easy and tastes great with pre-made puff pastry. Best of all, you can freeze this long before cooking, making it a perfect per-prepared option for busy kitchens or for when you get unexpected vegetarian guests at your restaurant.
Ingredients
850g from the long end of a large butternut squash, to give you a solid piece, peeled
400g pack sallot, peeled and halved
2 tbsp olive oil
50g pecans
1½ tbsp maple syrup
1½ tbsp balsamic vinegar
500g pack all-butter puff pastry
plain flour, for dusting
1 tbsp chopped sage
200g blue Wensleydale cheese, diced
4 tbsp olive oil to glaze
Method
Pre-heat your oven to 200°C/180°C fan/gas mark 6.
Cut the squash lengthways into 8 long chunky pieces and put in a large roasting tin with the shallots.
Add a dash of oil, season and roast for approximately 20 minutes.
Add the pecans and roast for a further 10 minutes, or until the squash is cooked but still firm.
Leave the squash to cool completely, but tip the nuts and shallots into a non-stick pan.
Add the maple syrup, balsamic vinegar and plenty of seasoning, and stir over the heat until the shallots start to carmelise. Leave to cool.
Roll out the pastry on a lightly floured surface to a rectangle about 30 x 40 cm. Trim 2cm from one of the long edges and set aside.
Transfer the pastry to a baking tray.
Places 4 of the pieces of squash down the longest length in the middle to make a rectangular block, keeping a generous border of pastry all the way round.
Now place another 2 pieces of squash on top.
Trim the remaining 2 pieces and put crossways at the end.
Scatter over the sage and blue cheese, then top with the shallots and pecans.
Lightly press to compact everything together.
Brush round the pastry edges with olive oil, then draw the 2 long edges up to meet and pinch together to seal – similar to a Cornish pasty.
Tuck under the pastry at both ends, then brush all over with egg. Cut leaf shapes from the remaining pastry trimmings and use to decorate the top of the Wellington.
Glaze once more and make a couple of small air holes with the point of a knife.
To freeze: Open-freeze on a baking tray until soild, then wrap in cling film then foil. It should keep for 2 months.
To serve (from frozen): Oven should be pre-heated to 200°C/180°C fan/gas mark 6. Unwrap the Wellington and place on a hot tray.
Bake for 30 mins, cover lightly with foil and bake for a further 35-40 minutes, remembering to take off the foil during the last 10 minutes of baking.
Leave to settle for 10 mins before thickly slicing., or the cheese will melt too quickly and run out.
If cooking from fresh, chill the Wellington for at least 30 minutes before cooking – it then needs only 30 to 40 minutes in the oven.
Desserts
Not Christmas meal is complete without a hearty dessert, cheese and biscuits might be the preference of some, but we think that a proper sweet treat can be an absolute showstopper in your Christmas menu.
Chocolate peanut butter and avocado pudding
The avocado neutral flavour and creamy texture makes this a slightly different experience, an exceptional substitute for dairy in desserts or smoothies. Make these in advance and keep chilled in the fridge before serving.
Ingredients
2 large ripe avocados, halved and stoned
1 large banana, chopped
5 soft prunes
6 tbsp unsweetened almond milk or coconut milk
2 tbsp smooth peanut butter (unsweetened if possible)
3 tbsp cacao powder (or good quality cocoa powder)
100g coconut milk yoghurt
2 tsp maple syrup or honey
dark chocolate (80% cocoa)
Method
Scoop the avocado flesh into a food processor.
Add the chopped banana, prunes, almond or coconut milk, smooth peanut butter and cacao powder.
Blend the until smooth, adding a little more milk if the blade gets stuck.
Scrape down the sides once or twice and blend again.
Divide the mixture between 4 small glasses.
Mix the coconut yoghurt with the maple syrup or honey and top each pudding with a generous dollop.
Finely grate a little dark chocolate over the top and chill for at least 1 hour before serving.
Gingerbread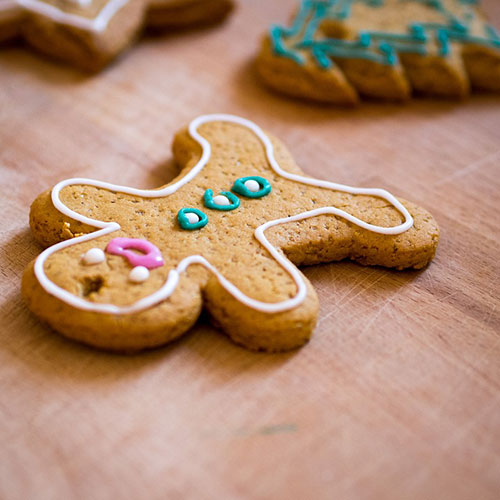 Synonymous with Christmas, these crispy treats are 100% Vegan and gluten free, but still remain moist and tasty.
Perfect to accompany an after dinner cup of tea or coffee!
Ingredients
1 flax egg
½ cup brown sugar
¼ cup almond butter
3 tbsp molasses
¼ cup vegan butter, softened
¾ tsp ginger
½ tsp cinnamon
¼ tsp nutmeg (optional)
¼ tsp salt
½ tsp baking soda
1¼ to 1¾ cups gluten free baking / pancake mix
Method
In a large mixing bowl, prepare flax egg by mixing flax and water and letting rest for 5 minutes.
Add softened butter, molasses, almond butter, brown sugar, salt, spices, baking soda and beat on a low with a mixer, or vigorously whisk.
Add gluten free flour to the wet ingredients and stir with a wooden spoon. Stir until well combined. Your dough should hold its shape when pressed, but not feel dry.
Cover and chill dough for at least one hour, preferably overnight.
Preheat oven to 350 degrees.
Carefully roll out dough to a little thicker than 1/8 inch between two sheets of plastic wrap or parchment/wax paper, generously sprinkling the bottom layer and the top of the dough with white or brown rice flour before rolling. You don't want it too thin or they'll be too crisp.
Remove top sheet and, working quickly, dip your cookie cutters in rice flour and cut out shapes. Next, lift the plastic wrap (with all of the dough) and place it on a baking sheet or large plate and freeze for 5 minutes to let them firm up. This will make them easier to transfer to your baking sheet for baking.
Next, use a lightly floured spatula to carefully transfer the cookies to a baking sheet, working quickly. Leave 2 inches for spreading.
Bake for 8-10 minutes or until they appear only slightly browned on the edges. They'll continue firming up as they sit on the pan. Let rest on the pan for 2-3 minutes, then transfer to a cooling rack.
Once cooled, decorate with frosting or sprinkle with powdered sugar. Piping on a mix of 2 cups icing sugar, 1 Tbsp melted butter, and 1-2 Tbsp almond milk. Just make sure it's on the thicker side so it doesn't run.
Store covered at room temperature for several days. Freeze for longer term storage. The batch should make between 25-35 cookies, depending on the size of your cookie cutter / or if you decide not to cut them and roll them into balls.
Chocolate banana ice cream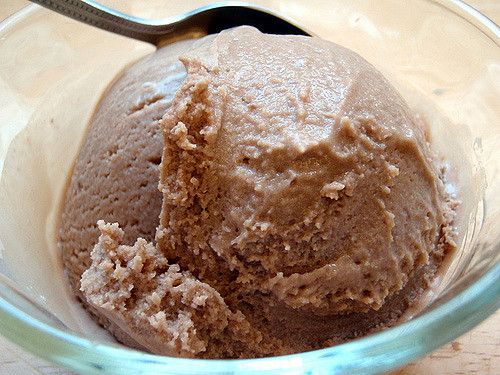 This low fat ice cream is a superb addition to another dessert, but that doesn't quite do it justice. Amazing on it's own with a dash of chocolate sauce, the combination of smooth chocolate and banana makes this an excellent after dinner option.
Ridiculously easy to make, this dessert only contains two ingredients!
Ingredients
1 frozen banana
1 tsp cocoa powder
Method
Add you banana and cocoa powder to a blender
Blitz until smooth
Serve
That's your lot! Hopefully this quick menu has helped you get sorted just in time for the the Christmas period, it's well worth offering solid vegetarian options as more and more people are choosing to remove meat from their diets.
Healthy and tasty, we are sure that your guests will find something they love!
Share