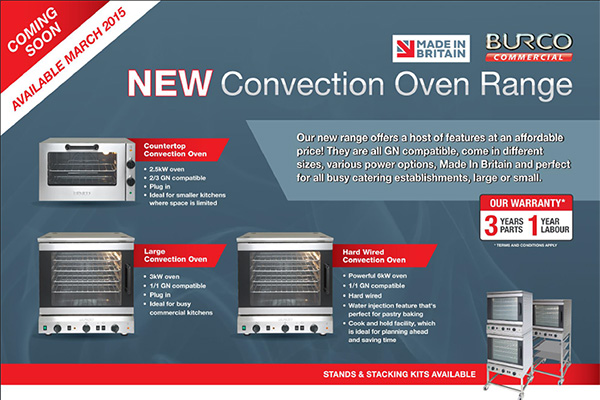 Since the Baby Burco Wash Boiler emerged on the scene in the 1950s, Burco has been at the forefront of the commercial catering equipment sector.
A company with a rich history, Burco originally focused on manufacturing water boilers before recently branching out to build a wide range of British made products that would be suitable for a whole manner of premises be they large or small, indoor or outdoor.
With a reputation built upon affordability and reliability, it is no wonder why Burco has become a leading name in the British catering sector.
Now,  the company is set to unveil their latest line.
At the end of March, Burco is set to launch a new range of gastronorm compatible ovens and accessories such as stands and stacking kits. All are competitively priced and unlike other comparable models, all of these Burco units are carefully built here in the United Kingdom.
Speaking about their launch, Commercial Brand Manager Diane Ho commented: "With three versatile models, the range has been designed to offer complete flexibility to suit the needs of different chefs.
"The ovens feature full gastronorm compatibility and an inventive stackable design to help save space in a demanding kitchen environment."
And that's not all: All of the ovens that form this new range all come with three year warranty for parts and a year's warranty for labour.
We're extremely happy to announce that as of today, our customers will be available to pre-order these items and if you do, you'll also receive a complimentary knife set on behalf of everybody here at CS Catering Equipment.
Burco 444443590 Countertop Convection Oven
This model might be the "baby" of the group, but that doesn't mean it is short of extremely useful features.
At 610mm wide and 395mm high, this convection oven has been purposefully designed to sit on a countertop at the perfect height for quick and convenient use.
Thanks to its small footprint it feasibly could be used as a portable unit as well.
A drop down door opens to reveal a uniquely designed fifty litre enamelled lined cavity that offers exceptional levels of heating consistency and eliminates temperature variations during the cooking process.
Visit CS Catering to view this oven.
Ideal for smaller kitchens
13A rating
2/3 GN Compatible
Burco 444443588 Large Convection Oven
This 3000w convection oven has many of the same features as its 'little brother', but as you'd expect it expands on them. A cook and hold function enables operators to plan ahead, saving time and reducing inefficiencies whilst a water injection feature is ideal for those who are wanting to prepare a selection of baked goods.
Alongside a large 98 litre net loading capacity and a robust and durable stainless steel construction, the 444443588 has a 13A rating which removes the need for any specialist wiring – simply plug in and get cooking!
We expect this to be the most popular model.
13A rating
1/1 GN Compatible
Fan assisted oven
Burco 444443589 6kw Convection Oven
At the top of Burco's new line proudly stands the 444443589, a large 6000w convection oven that achieves exceptional results. This is thanks to the presence of a twin fan which ensures an even distribution of heat and a powerful heating element.
1/1GN compatible and fitted with four shelves (528 x 383mm), it, like the 444443588, has a 120 minute manual timer and a 180 minute cook and hold timer, as well as a side opening door and a water injection function.
This is the perfect choice for bustling commercial catering premises and for those who want a premium performing oven without breaking the bank.
Find out more about this oven.
Powerful 6000w oven
Hard wired
1/1 GN Compatible
Ideal for high volume establishments
Alongside these three new ovens there will also be an accompanying set of stands and stacking kits that will be available to pre-purchase, all of which have been created to aid space optimisation within a bustling and vibrant commercial kitchen.
---
To find out more information on the products then please visit our website, or contact a member of our staff who'll be happy to deal with any and all queries regarding this new range.
---
Share