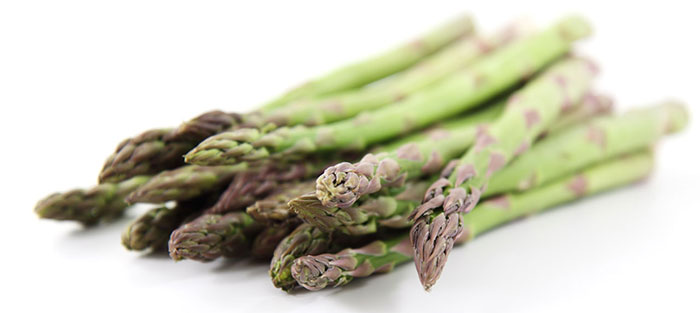 May in the UK brings asparagus and there are plenty of ways to make the most of this versatile green.
You can serve asparagus very simply by cooking on a griddle over a high heat for about five minutes, until it is tender, then serving garnished with a little squeezed lemon juice and parmesan shavings.
Char grilled asparagus is made sophisticated wrapped in Parma ham and served with grilled halloumi and capers.
Asparagus also makes an excellent addition to egg dishes such as quiche, omelette or frittata.
Asparagus and pea soup
300g asparagus, trimmed and cut into thick slices
5 tablespoons extra-virgin olive oil
5 shallots, peeled and sliced thinly
1 celery heart, trimmed and sliced thinly
3 cloves of garlic, peeled and chopped finely
300g shelled peas
900ml chicken stock
20g fresh mint leaves
Salt and black pepper
In a large pan, heat the olive oil gently and add the shallots, celery and garlic. Cook for about five minutes, stirring frequently, until the vegetable are soft. Add the asparagus and season, then cook for another three to four minutes, still stirring regularly, then add the peas and stock and bring to the boil. Simmer for about five minutes.
When the soup is cool enough to handle, add it with the mint to a food processor in manageable amounts and whizz until the soup is smooth and silky but retains a little texture. To serve, reheat and garnish the bowls with a drizzle of olive oil, a couple of mint leaves and a little grated parmesan.
Share