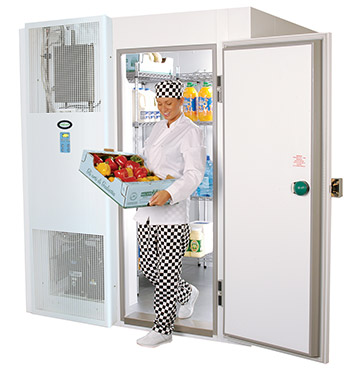 Foster coldrooms are ideal for owners of commercial catering establishments, who are on a budget but don't want to compromise on quality or durability.
The Proline range comes in several different sizes to suit both large, medium and small kitchens, so whether you need a large coldroom for storing sizable quantities of food, or space is at a premium in your kitchen, you'll find a Foster coldroom to suit.
This line of coldrooms comes with two temperature options; chiller and freezer and several different shelving options
For those that are concerned about the environment and want to save on energy bills, the Foster coldroom 'Commando Packaged' line is perfect; they are water-cooled and have a heat removal system which makes them incredibly cost effective, efficient and of course, eco-friendly.
Some of the features included in every Foster coldroom include an integrated refrigeration system which is panel mounted, which makes installation quick and simple, as well as a tasteful, modern white laminate finish to both the interior and the exterior.
Foster Coldrooms don't require any drainage system to be set up, which makes the installation process even easier.
These coldrooms are suitable for high ambient operation and come with a rigid, non-slip floor which is galvanised for extra durability.
Both the refrigerator and the freezer temperature ranges are the same as the standard Foster refrigeration units and the doors are hinged with an internal handle that has a safety release catch.
Racking is also supplied as standard with every coldroom.
Share