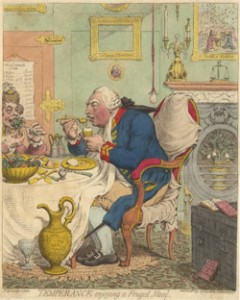 They call it the disease of Kings and though it is traditionally associated with Victorian excess, gout is slowly becoming more and more common.
According to the latest figures released by the NHS, cases of gout have doubled within the past five years. And it isn't just gout that is making a comeback; the amount of people diagnosed with suffering from scurvy – traditionally the bane of sailors – has increased as well.
The reason for these conditions returning is believed to be down to people consuming uniform diets consisting of large quantities of red meats and seafoods and more modern ills such as fast food and cheap alcohol. Just under 90,000 people were admitted to hospital with the disease in the year to April.
Arguably the most famous gout sufferer was Henry VIII and gout received its moniker as a rich person's disease because it was historically linked to overindulgence and rich, fatty foods.
"In Victorian times gout was much more likely to afflict the aristocracy, hence the typical Gillray cartoon of a port-quaffing squire that persists to this day," stated Alan Silman, a medical director for Arthritis Research. However as times have changed and food prices have fallen dramatically, more people have easier access to unhealthy lifestyles.
"The recent rise in numbers," continues Silman, "can be mainly attributed to the general rise in obesity."
Cases of gout have "jumped quite a lot," said Dr Weiya Zhang of Nottingham City Hospital. "Diet and weight have become a burden and gout is directly linked to these issues…This is just a disaster."
The easiest way to prevent gout is by avoiding eating large amounts foods that are high in purines which include offal, oily fish (such as anchovies) as well as food and supplements that contain yeast and meat extracts.
Crash dieting and switching to a high-protein and low-carb regime is also to be avoided according to health officials.
Gillray Temperance 05112 Licensed under Public domain via Wikimedia Commons.
Share