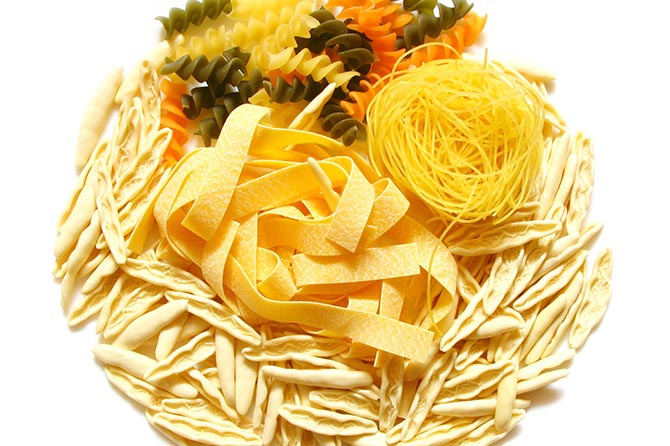 A classic heart Italian favourite;
2 tablespoons olive oil
6 chopped anchovy fillets
1 tablespoon tomato puree
 teaspoon dried chilli flakes
600g tinned chopped tomatoes
1 tablespoon tomato ketchup
1 tablespoon fresh basil leaves, chopped
75 olives, pitted and chopped
1 tablespoon capers
350g pappardelle or other ribbon pasta
Cook the pasta while you prepare the sauce.
Fry the anchovies in the oil on a gentle heat for a couple of minutes, then stir in the tomato puree and chilli flakes.
Turn the heat up a notch and cook for another couple of minutes before adding the tinned tomatoes, ketchup, basil, olives and capers.
Simmer vigorously for about five minutes, until the sauce thickens.
Season to taste and stir through the pasta, then serve with some garlic bread and a green salad.
Courgette, herb and Parmesan Penne
500g penne pasta
3 tablespoons olive oil
6 courgettes, thinly sliced
3 tablespoons mixed fresh herbs, chopped
2 tablespoons grated Parmesan
Put the pasta on to cook and in the meantime, cook the courgettes in the oil over a gentle heat until soft.
Add the courgettes, herbs and Parmesan to the drained pasta and serve with warm garlic bread and a chilled Sauvignon Blanc.
Share