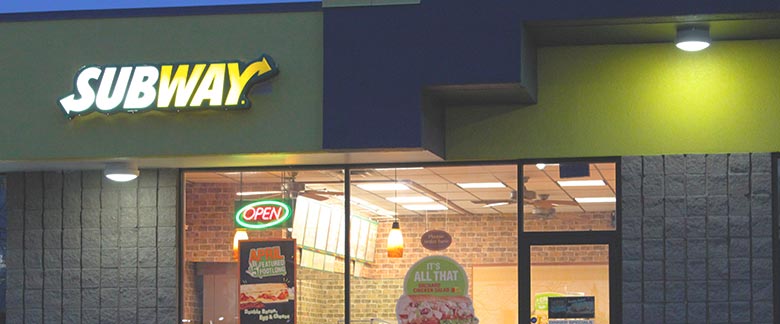 Sandwich shop extraordinaire, Subway, exploded on to the British high street in 1996, slowly carving a niche as a healthier alternative to the other American fast food brands that specialise in burgers and deep fried foods.
From the conveyor-like sandwich making process to the wealth of healthier options available, the company reinvigorated the fast food industry to the point that the brand is now seen on high streets and garage forecourts all over the country.
But how is their success built? Through a simple but easy to replicate kitchen formula.
Surgically Precise Cooking
Much like McDonald's mathematical approach to burgers, the Subway model uses a specific layout to increase productivity whilst simultaneously providing an expectation that is met in each location.
As with all fast food, compromises are made to improve the order-to-cooking process.
A rough estimate would be around 3 to 4 minutes to make an average sandwich at the sub-roll specialists.
In that short length of time there could be a reheating or cooking process (including toasting) and even includes salad and sauce prep.
So, no time can be wasted waiting for traditional equipment, but not just that, the quality must remain consistent.
That's why utilisation of powerful cooking equipment such as combination microwaves and grills has become so prominent in the fast food industry.
Innovative Engineering for Cooking Excellence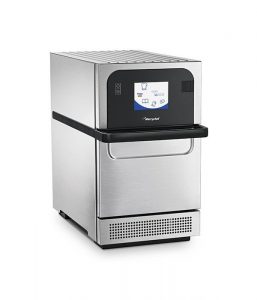 Innovation pushes the boundaries of what our regular kitchen equipment can do, with brands such as Merrychef and Turbo Chef creating some of the most advanced microwave combination ovens available.
Using microwave cooking speed with oven-like capabilities results in food that can be rapidly toasted, grilled and reheated much more consistently than a standard oven or grill.
Not only does this reduce cooking time, but in turn the waiting time of customers.
Because fast food needs even faster cooking.
To replicate the rapid response reheating, toasting and more you need an Accelerated Cooking Oven – we recommend many of the powerful Merrychef models such as the Eikon range.
All units within the Eikon range are specifically designed to provide fast food and snack outlets with the means to produce quality food in a compact unit.
If your business is looking to streamline the snack food preparation process, these unique and powerful pieces of kitchen equipment can instantly transform your entire prep procedure.
The combination microwave has quickly become the cornerstone of the fast food industry, where you need accurate, repeatable results in seconds.
Toasting, reheating and grilling capabilities are all possible, with many of these units now coming with intuitive touchscreen controls and pre-programmed with routines for specific dishes.
Extras
Any sandwich shop or snack food specialist is going to need to have access to a plethora of other key items to start serving super sandwiches.
Let's discuss the key components of a standard Subway kitchen and serving area.
Refrigerated prep counter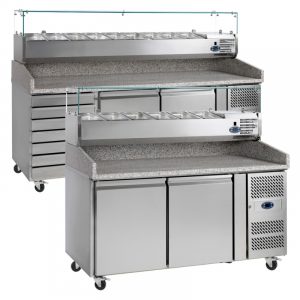 The most prominent and striking portion of any Subway store is the large preparation counter that dominates most premises.
Home to all the cold meats, cheeses, salad items and sauces, this is arguably the most important component in the success of the stores.
Customers are taken along a conveyor process of sandwich construction, the 'sandwich artist' guides them through the creation process building up a sense of trust and giving the customer almost complete control of their dish.
With a refrigerated counter, under counter storage and a glass protective screen all helping keep salad and food items fresh, these units are the cornerstone of the sandwich preparation process.
Display refrigerators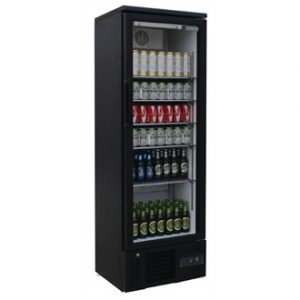 Your drink display needs to be both prominent and kept safe and secure, so a quality display refrigerator is needed for your service areas.
In most Subway stores drinks are self service, allowing the customer to select what they need without interference or delay.
An attractive display for your cold drinks means that customers are more likely to consider adding another item to their order, and increase their spend.
As part of a meal deal option, a prominent location and easily visible, attractive unit makes selling extras such as drinks an absolute breeze.
Be your own business
Whilst we have disected some of the key components that make Subway tick, we must stress that to emulate these kinds of fast food business you will need to differentiate yourself.
Copying or using an existing model means that customers will more often than not, choose what they already know.
This information should serve as a guide of how Subway utilises the wealth of quality commercial kitchen equipment to streamline and improve the foodservice process.
For more information on the products featured within this article or to speak to an advisor then please call 01977 687 565 now.
Share