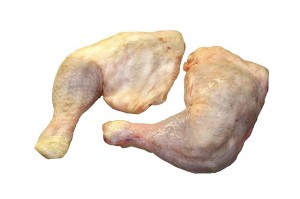 According to a survey conducted by the Food Standards Agency (FSA) 44% of us wash chicken before cooking it.
However the FSA has warned people against this commonly held kitchen practice as doing so increases the risk of food poisoning.
Those most at risk are the elderly and children under the age of 5.
Camplyobacter currently affects 280,000 people in the United Kingdom each year and the bacteria is commonly spread onto hands, clothing, utensils and surrounding work surfaces from splashing water droplets, hence why the governmental department has moved to inform the general public about this unknown threat.
Symptoms can include stomach pains, fevers and diarrhoea, though long-term health issues have been noted such as irritable bowel syndrome and, in extremely rare cases, Guillain-Carre syndrome. At worst, if left untreated, it could kill.
"That's why we're calling on people to stop washing raw chicken and also raising awareness of the risks of contracting campylobacter as a result of cross-contamination," says the FSA's chief executive Catherine Brown
The majority of issues surrounding the bacteria stem from contaminated poultry, though the bacteria can also be found in raw meat and milk products.
A third of people surveyed cited that they washed poultry in order to remove germs, with another stating that they did so get remove dirt.
The study also found that whilst the majority of people polled were well aware of salmonella and E. coli, not many were aware of campylobacter despite it being the most common cause of food poisoning in the country.
Brown continues; "Campylobacter is a serious issue. Not only can it cause severe illness and death, but it costs the economy hundreds of millions of pounds a year as a result of sickness absence and the burden on the NHS."
The FSA has also released this promotional video
photo: Lebensmittelfotos (Pixabay, used under CC)
Share