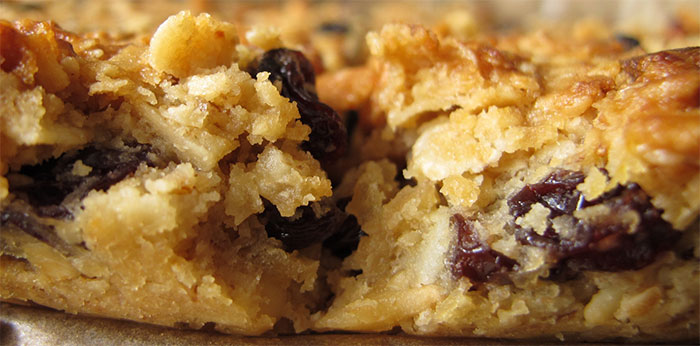 Flapjacks are an undeniable treat, but the beauty of them is that the oat content makes them rich in healthy fibre compared to other sweet treats and there are numerous ways to make them more nutritious without compromising a sweet tooth.
The following recipe reduces the fat and sugar content of a standard flapjack by using fruit to help bind the ingredients, but you can use a number of different fruits and nuts for both health and flavour.
The flapjacks make a great snack and travel well so are ideal for lunchboxes.
Fruity flapjacks
50g butter
5 tablespoons golden syrup
2 bananas, ripe and mashed
1 apple, peeled, cored and grated
250g rolled oats
85g dried apricots, chopped
100g raisins
85g mixed seeds (such as pumpkin, sunflower and linseeds)
Preheat the oven to 1600C and grease and line a 20cm square baking tin.
Heat the butter and syrup in a large, heavy-based saucepan and stir regularly until melted.
Remove from the heat and add the banana, apple and about 100ml of hot water and mix until well-combined.
Then add the oats, dried fruit and seeds and mix well again until all the ingredients are combined.
Pour into the baking tin and level the surface, then bake for 50-60 minutes, until the top is golden-brown.
Leave to cool for 15 minutes before using a sharp knife to gently mark 12 squares, then leave to cool completely before removing from the tin.
The flapjacks can be stored in an airtight container in the fridge for up to three days.
Photo: Pam loves pie
Share