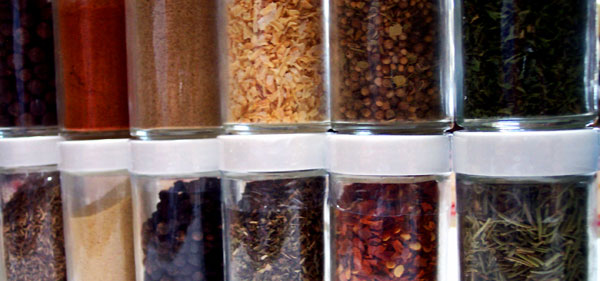 In the past, herbs and spices were often used as medicines or to disguise the flavour of food past its best and to lend some protection through their medicinal qualities.
These days they are more often used to bring out the flavour of food.
Britain was introduced to many herbs through monasteries, where herb gardens were cultivated for medicinal use.
Herbs
It's easy to find most dried herbs in supermarkets but nothing beats fresh varieties, particularly home grown.
Whether you have a large garden or live in an apartment, it's easy to grow your own herbs as they flourish on windowsills and scent the air nicely.
To dry, harvest early on a sunny day, after the dew has evaporated but before midday, so that they are dry but before the oils start to evaporate.
Wrap the picked herbs in cones of newspaper and hang upside down in an airy place until completely dry.
Once dry, store in glass jars in a cool, dark place.
Spices
These are best stored whole as they begin to lose aroma and flavour once ground.
Store in a cool, dark place and use freshly ground for full flavour.
An electric coffee grinder is ideal.
Clean out the strong flavours by grinding a couple of teaspoons of rock salt between spices and after use.
Store cupboard
With so many varieties it's hard to know where to start, but a list of store cupboard basics could be salt and pepper, parsley, basil, oregano, chilli powder, cinnamon, nutmeg, cloves, paprika, allspice, ginger, cumin, thyme, rosemary, sage, dill, cayenne pepper and curry powder.
Share