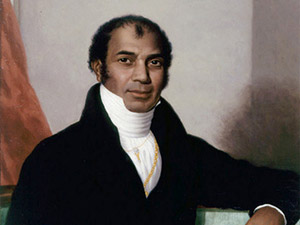 Today, Wednesday 12th October, is slap bang in the middle of National Curry Week.
The event, which runs from the 10th to 16th of October, celebrates over two centuries of Indian restaurants and cuisine within the United Kingdom.
Some 23 million people, just under half of the population, eat curry in United Kingdom every year and those behind the Curry Week forecast that the average Brit will spend nearly £34,000 on traditional subcontinent cooking in their lifetime.
With the average wage coming in at £26,500, that means we spend fifteen months' worth of our salaries on vindaloos, jalfrezis and tikka masalas.
But did you know about the man who set up the first Indian restaurant in Great Britain?
That man was Sake Dean Mahomed and he had a rather remarkable life.
Born in the city of Patna, Mahomed initially followed in his father's footsteps and joined the military and quickly rose through the ranks serving and working alongside one Godfrey Baker. When, in 1872, Baker left the army so too did Mahomed and the two headed to Baker's historical home in Cork, Ireland.
Just over a decade later Mahomed completed The Travels of Dean Mahomet which was published to rapturous reviews, providing a valuable perspective on the Indian conquest and Indian nation.
In the early 1800s Mahomed moved to London with his wife, Jane, and son, William. There he worked for Sir Basil Cochrane's bathing business and is reputed to have introduced a new form of therapeutic massage to the British capital. However, his true claim to fame would shortly follow when he set up the Hindoostanee Coffee-House.
Located at 34 George Street, Portman Square this establishment offered traditional Indian dishes which were created "in the highest perfection, and allowed by the greatest epicures to be unequalled to any curries ever made in England."
The idea was to sell authentic food to Indian aristocracy who had moved to London and to British people who had returned back from the subcontinent.
Unfortunately, this venture started slowly and it eventually closed in 1812.
Despite its brief lifespan Mahomed goes down in history as being the first person to found an Indian-themed restaurant in Great Britain, something which the City of Westminster commemorated in 2005. A plaque can be found at 102 George Street, close to the Hindoostanee Coffee House's original location.
According to reports, Mahomed retired from work in 1834 and he passed away in 1851, apparently aged 92. We say apparently because his grave states he was 102!
By Thomas Mann Baynes (1794–1876) [Public domain], via Wikimedia Commons
Share