A crucial tool in all kitchens, the frying pan is very versatile and can be used in the preparation and cooking of a variety of cuisines. Did you know we have over 80 different types of frying pan to choose from on our website? They vary in size, shape, material and thickness, each variation having its own benefits.
We stock fry pans from some of the most renowned brands in the catering industry, with big names like Bourgeat, Vogue and de Buyer. This range ensures we have a pan to suit every budget or function.
Within the range of pans available we have suitable options for a range of cooking styles; gas, electric or induction.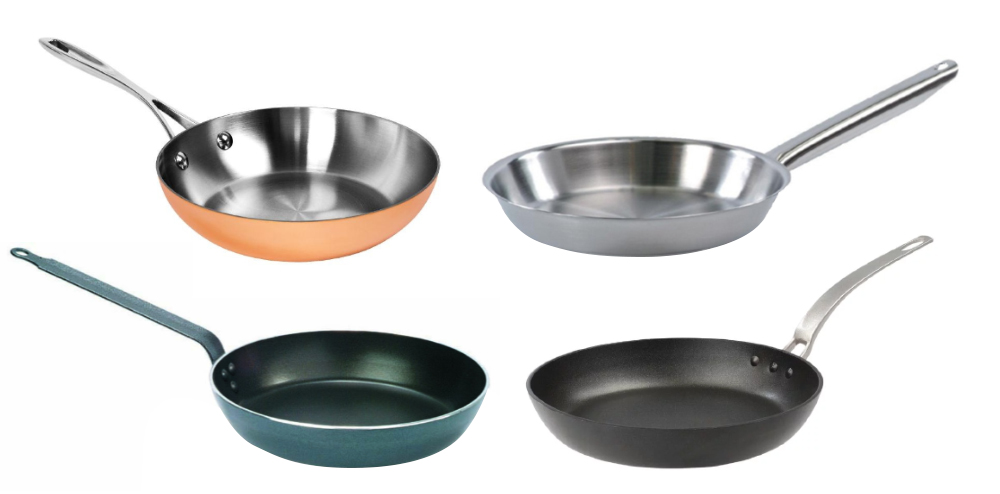 Material
There are various materials used in the manufacturing of pans, tailored for cooking certain foods, durability depending on how heavily they are used or for the type of heat they are being used with.
Stainless Steel – Strong and a great heat conductor – plus it is magnetic so is compatible with induction heat sources as well as all other types of heat.
Aluminium – A great conductor of heat, as well as being very lightweight – However unsuitable for Induction cooking equipment.
Ceramic – One of the main benefits is the non-stick characteristics of the ceramic material – as well as heating up quickly.
Copper – High thermal conduction means the entire pan heats up evenly and consistently – ideal for temperature sensitive foods.
Mineral B – These are pans made the old fashioned way – and are free from chemical coatings – Manufactured from iron or carbon steel.
Thickness
Different materials (as above) come in different thicknesses to suit the properties of each material. However in general, the thicker the pan; the more durable it is. A thicker pan also retains heat for a lot longer, however it will also take longer to heat up at the start.
Pans can vary from a couple of millimetres thick, up to over 5mm for the thicker pans.
Diameter/Size
Pans are typically measured by their diameter inside of the rim, in centimetres or millimetres. Getting the right size depends on the size and quantities of food you'll be cooking, as well as the size of your cooktop – it's a good starting point to match the pan to your appliance.

Handle Type
Deciding which kind of handle to use is a personal preference. A common design of handle on a fry pan is the strip steel style handle, which is essentially a long thin strip that's usually curved. It allows pans to be stacked tightly together, saving space.
The other type of handle is a tubular handle, which has the benefits of being cooler to touch.
Cooking Surface
Alongside the material of the pan itself, some pans feature additional coatings, such as a non-stick coating made from teflon, ceramic compounds or special multi-layer non stick coatings.
One important point to remember when deciding on a pan, is the type of utensils you intend to use with it. Some non-stick coatings are unsuitable for use with metal utensils; as they can damage the coating over time.
Frying Pan Seasoning
Some types of pans need to be seasoned before use. This is essentially giving the pan a protective, resilient coating for cooking with. This is done by adding enough oil to cover the base of the pan, and then heating the pan until the oil is smoking. Then the oil is wiped around the inside of the pan, coating all of the interior surface.
After this is done, the pan is generally rinsed off without using any soaps or cleaning chemicals.
You can find all of our pans in the cookware section of our website.
Share