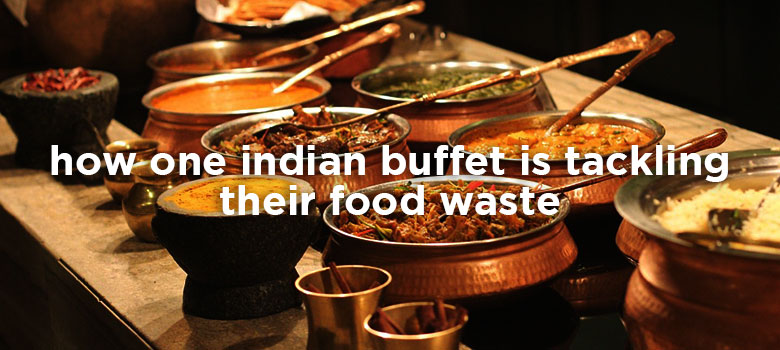 It has been a common theme over the past couple of years, but Britain's food waste has reached tipping point.
So much so, that after noticing their food waste increasing to an eye-watering 600kg per week, one Dundee-based Indian buffet has decided to impose fines on wasteful customers.
Could this be a great way to help reduce the waste in buffets up and down the British Isles?
Diners at Taza Indian Buffet – in Dundee's city centre – will be expected to pay £2 if they fail to finish their meal.
But how do they decide who has 'finished their meal' you ask? Well, by using a small cardboard template, with a cutout roughly the size of a person's face, and placing over your dish. If this exceeds the boundaries of the template, then they consider this as an unfinished meal.
Speaking to Scotland's Evening Telegraph, restaurant general manager Vaseem Salimi said: "We realised that we were wasting 600kg of food per week and that was a real eye-opener for us.
"We wanted to do something to reduce that.
"We will always have some food waste because everything we have left at the end of the day needs to go in the bin, but it is about cutting down on needless waste.
"Some people have the mindset that they come to a buffet and pay a set price and that means they can do whatever they want, such as heaping piles of food on to their plate then deciding they don't like it."
Some might argue that this is exactly how all buffets should work, as a paying customer you have already paid to eat, the rules can't suddenly be changed.
But Mr Salimi insists that this policy has not been introduced to make money:  "This isn't about us making money — it is to get the message across.
"This is about trying to change the way people view a buffet," he explained. "Maybe they should take a smaller portion, try it first and then decide if they want more.
"We let customers know about our policy as soon as they come in and there is a notice on the table to reinforce the point."
Whilst we applaud this move, we can't help but wonder if this could penalise certain customers, such as families with young children. Most parents will attest to their children being fussy eaters, and so if left unsupervised for a few moments, they could be piling their plates high with food they have no intention of eating.
But, despite this minor grievance, we do agree with this move, especially as this is such a big global issue.
"We don't want people to be charged," added Mr Salimi. "We would rather that they tried to waste as little food as possible.
"Food waste is a big issue globally and some people do not realise how big an impact things like meat production have on the planet.
"We're not saying 'don't eat meat', but if you can keep waste to a minimum then that will benefit everyone."
Has this given you food for thought?…
Share