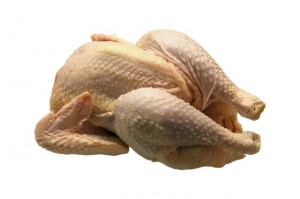 More than one million cases of food poisoning were reported in the United Kingdom last year, with poorly cooked chicken the most common cause of complaint.
Last week the Food Standards Agency published a report into food poisoning and it made for some very interesting reading.
Officials highlighted the importance of their own findings, suggesting that official data significantly underestimate the risk as only the most serious cases get reported when patients seek medical help.
"The data from this study, couple with data from official statistics, refines our previous estimates of the real burden of foodborne disease and so will help focus efforts to reduce levels of food poisoning in the UK", the FSA said.
The watchdog noted that campylobacter, which is commonly found on raw and undercooked chicken, was the pathogen that presented the biggest risk to individuals, with clostridium perfringens and the norovirus as other high profile problem-causing bacteria.
In summary, the study found that:
There are more than half-a-million cases of illness from known pathogens. This figure would double if unknown pathogens were included in results.
Camplyobacter was the most common pathogen, attributed to around 280,000 cases on an annual basis.
However it was Salmonella that caused the most hospital visits.
Lead researcher, Professor Sarah O'Brien, said that these new document findings will "help the FSA to target its resources more effectively in tackling food poisoning" and that the group are right to "put campylobacter the top of its priority list."
Even though the bacteria has caused a lot of upset stomachs and a number of potentially embarrassing 'morning afters', the pathogen is remarkably easy to eradicate: it is killed by cooking poultry thoroughly, so as long as people prepare their chicken properly and follow sensible hygiene practices they should be clear of any risk.
British retailers are also playing their part, with a spokesperson claiming that supermarkets have already taken steps to eradicate the problem, measures which include further investment within their supply chains and further work with farmers and processors to identify quality controls.
Share