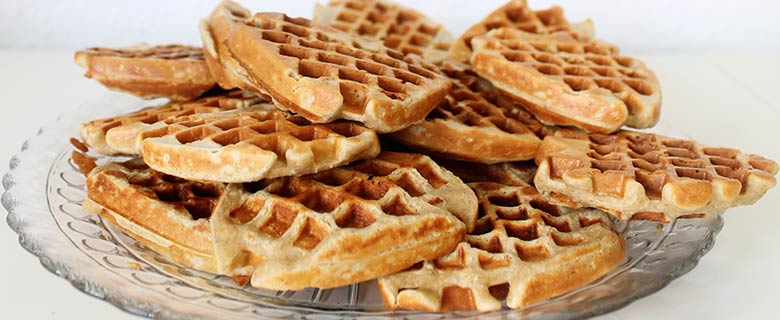 With 365 days in the year it's quite easy to lose track of time and see days blend into weeks and weeks into months. It's also easy to get dates mixed up, something which can be a little detrimental to our personal and/or professional lives.
However you can be excused for being a little confused about Waffle Day because it actually takes place twice a year.
So why does the waffle get to have two days?
National Waffle Day
National Waffle Day (24th August) is predominantly an American celebration, one which pays homage to the first ever U.S patent for a waffle iron which was submitted way back when in 1869. The wonderfully named Cornelius Swarthout, of Troy, New York, was the intrepid culinary creator who dared to dream of a utopia where we all could easily make waffles.
Prior to Swarthout handing over his blueprints, waffle irons had existed in one form or another since the 1300s. However, these items were notoriously tricky to use in confined spaces and were therefore pretty much pointless for the vast majority of domestic kitchens.
So whilst Swarthout's early machine wouldn't win any awards for its aesthetic approach it was certainly practical for its time, even if was designed to be used in conjunction with a coal stove and required operators to manually flip the device. Progress is progress after all.
However, it wasn't until 1911 when General Electric introduced the first electric waffle maker that the appliance took off in popularity and these units began to resemble the ones that we use today.
But everybody remembers Cornelius Swarthout.
International Waffle Day
International Waffle Day (25th March) has a rather interesting backstory.
Nine months before Christmas, many within the Christian community celebrate the Feast of the Annunciation, the date when the Virgin Mary was reportedly informed by the angel Gabriel that she would be bearing the Son of God.
In many cultures and countries, this date took on a secondary celebratory moniker of 'Lady Day'.
In England, for example, Lady Day was the first of the four traditional quarter days on which academic terms started, tenancies were due and staff were hired.
So, what has this to do with waffles?
Well, in Sweden, "Our Lady's Day" (Varfrudagen) sounds incredibly similar to "Waffle Day" (Vaffeldagen) and somewhere along the line somebody served up a plates of waffles to celebrate Lady and that trend quickly caught on and spiralled out of all control.
So there we have it!
Share