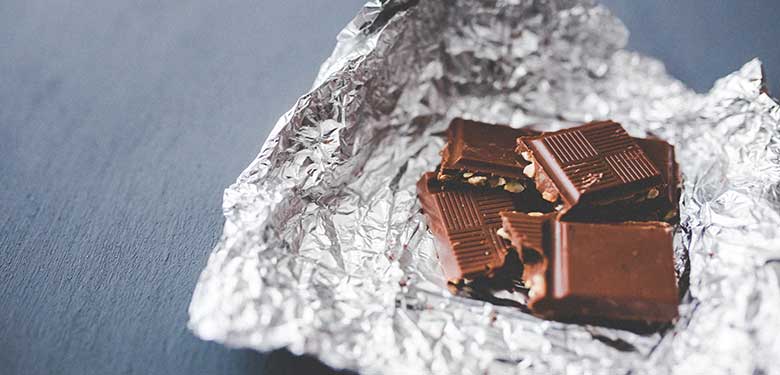 World Chocolate Day is held every year on the 7th July, this date being rumoured as the date in which chocolate was introduced to Europe over 465 years ago.
In that time chocolate has taken over, it's everywhere. But not always where you'd expect it — sometimes you'll even find it in everyday dishes that can truly change the way you experience your favourite food.
To celebrate the cocoa-holiday, we've collated five of our favourite everyday chocolate recipes that aren't simply desserts and deserve to be tasted by chocoholics all over the World.
5. Chilli con Carne – with chocolate
Yes, the spicy taste of chilli somehow makes a great chilli taste even better, we think it's due to the nature of dark chocolate.
The bitterness helps take the edge off the spicy dish without destroying or overpowering the taste.
Milk chocolate isn't advised, the sugar content can make this traditionally spicy dish too sweet.
Ingredients
tbsp

olive oil

red onion, finely chopped
red peppers, deseeded and sliced
hot chilli powder
cumin
paprika
beef mince 5% fat
passata with onion and garlic
beef stock, made with 1 beef stock cube
tin red kidney beans in water, drained and thoroughly rinsed
squares (20g) dark chocolate (or any other chocolate with at least 70% cocoa solids)
half fat crème fraîche
Method
Heat up the oil in a large saucepan and add the chopped onion. Cook for around 2-3 minutes until the onion begins to soften and add the peppers. Cook this mixture for another 3-4 minutes until the peppers just start to become tender.
Add the chilli powder, cumin and paprika to the pan and stir through, cooking for approximately a minute. Add the 500g minced beef to the pan and move around, breaking up with a wooden spoon. Cook for 3-4 minutes until the beef has browned all over.
Pour in the passata and stock. Bring to a gentle simmer and cook for 30 minutes.
Heat the chocolate in a microwave for around 30 seconds or until melted. Add this to the chilli mixture, along with the beans. Alternatively, you can add the solid pieces of chocolate straight to the chilli. Stir to combine, then simmer for another 15 minutes until the mixture has thickened slightly.
Meanwhile, prepare some long grain rice and serve with the chilli once prepared.
PLEASE NOTE: Adding any more than 20g of dark chocolate could overpower the chilli, so add more sparingly!
4. Chicken with Mole Poblano sauce
Contrary to the name, no moles are needed to make this chicken dish, instead, chocolate is used to help make a rich sauce that is complemented by fresh coriander.
As with many recipes that utilise chocolate, the combination of sweet, spicy and richness make for a winning taste.
An authentic Mexican dish, but with a chocolate twist, the mole sauce can be made in a whole number of ways. Mole Poblano is one of the variations made with chocolate.
Ingredients
3 tablespoons corn oil or coconut oil
8 whole chicken legs with thighs attached
2 cups (4.8 dl) hot salsa (Mexican or Tex-Mex)
1 cup (2.4 dl) chicken broth
1 sweet pepper, chopped
6 sun dried tomatoes, soaked in hot water
4 tablespoons raisins
4 tablespoons peanut butter
1 corn tortilla
1 teaspoon ground cumin
½ teaspoon ground pepper
½ teaspoons cinnamon
½ teaspoon ground cloves
1 teaspoon salt
2 oz (60 g) bittersweet chocolate
3 tablespoons sesame seeds, toasted
Method
Cook the chicken legs in corn oil or coconut oil if you prefer.
In a blender mix salsa or tomatoes, sweet pepper, sun-dried tomatoes, raisins, peanut butter, tortilla, chicken broth, salt and spices, and puree on high speed.
Heat the sauce, add chocolate and mix well.
Add more salt or spices as needed.
Cook the chicken legs in the sauce at low heat until tender, approximately one hour.
Sprinkle toasted sesame seeds on the chicken, and serve with rice and a salad.
3. Cocoa rubbed baby back ribs
The influx of barbecue restaurants and Texas-BBQ inspired menus up and down the country means most will know their way around slow cooked short ribs.
Sticky-sweet barbecue ribs are obviously popular, so the addition of chocolate shouldn't come as a great surprise — except for the taste.
Traditional ribs — but definitely not how you expect them.
Ingredients
1⁄3 cup unsweetened cocoa powder
1⁄2 cup light brown sugar
3 tbsp. ancho chili powder
2 tbsp. kosher salt
2 tbsp. granulated onion
1 tbsp. granulated garlic
1 tbsp. dried oregano
1 tbsp. dried mustard
2 tsp. dried ginger
2 tsp. ground cinnamon
1 tsp. ground allspice
2 racks (3 lb.) pork baby back ribs
Method
Mix the cocoa powder and spices together in a bowl until well mixed.
Coat and rub a generous helping of the spice mixture onto the ribs. Wrap in foil or cellophane and leave in a fridge overnight.
Around 3 hours before planning to serve the ribs, take them out of the fridge and allow them to settle to room temperature.
If cooking in an oven, preheat to 450°C and transfer ribs to a baking tray or sheet with a wire rack. Cook curved side up first until brown then flip and cook for a further 15-20 minutes.
Follow same procedure if cooking on a barbecue — plus you get the added bonus of that lovely charred taste and texture.
2. Olive oil and sea salt chocolate toasties
Nutella toasted sandwiches are another secret we'd like to share before we delve into this amazing recipe — courtesy of BBC Good Food.
And if you've ever tried chocolate with a hint of sea salt, you'll know just how strangely amazing it actually is — especially with bitter dark chocolate — for some reason it just adds another flavour dimension!
Well, this amazing toastie-treat could be top of your lunchtime priority list this weekend.
Ingredients
2.75oz/75g milk or bittersweet (dark) chocolate, broken into squares
4 slices good-quality crusty bread or white sourdough
Salt, for sprinkling
2 tablespoons olive oil
Method
Split the chocolate pieces between two slices of bread and sprinkle with salt, then sandwich with the remaining two slices of bread.
Put a skillet (frying pan) big enough to fit both sandwiches on to a medium heat, then brush the top of the sandwiches with plenty of olive oil.
Put the sandwiches, in the pan, oil-side down, and fry for about 2–3 minutes until golden.
Brush the unoiled bread with oil then flip the sandwich over. Fry again for another two minutes, or until the chocolate is oozing, then serve immediately.
Tip: Try serving this with fresh orange segments on the side for added freshness.
1. Pistachio and triple-chocolate brownies
Yeah, we may have said this was 'alternative recipes' earlier on, but honestly, this recipe is just too good not to share — I've personally had them at least three times in the last six months — honestly amazing.
It would be rude not to include a lovely stodgy brownie recipe on World Chocolate Day and it makes an amazing treat with a cup of tea or coffee.
Ingredients
180g (3⁄4 cup, plus 2 tsp) unsalted butter, plus extra for greasing
150g (1 cup) good-quality dark (bittersweet) chocolate, chopped into small pieces
100g (2/3 cup) good-quality milk chocolate, chopped into small pieces
3 large eggs, beaten
200g (1 cup) soft light brown sugar
100g (1⁄2 cup) caster (superfine) sugar
90g (2/3 cup) plain (all-purpose) flour
40g (1⁄2 cup) cocoa powder
50g (1/3 cup) good-quality white chocolate, chopped into small pieces
50g (2 oz) pistachio nuts, roughly chopped
Method
Preheat your oven to 180°C/350°F/gas mark 4.
Lightly grease and line a 20cm x 20cm (8in x 8in) baking tin with baking paper.
Melt the butter, dark chocolate and 50g (1⁄3 cup) of the milk chocolate in a medium-size bowl set over a pan of barely simmering water, making sure the base of the bowl doesn't touch the water.
As soon as the chocolate and butter have melted, remove the bowl from the heat and set aside to cool slightly.
Meanwhile, beat the eggs and sugars together until thickened and pale – this should take up to five minutes. Pour the chocolate mixture into the egg and sugar and gently fold through until just combined.
Sift over the flour and cocoa powder and fold these through until just combined.
Finally, carefully fold in the remaining milk chocolate, the white chocolate and the pistachios until they are well distributed through the mixture.
Spoon the brownie mix into the prepared tin and use the back of a spoon to smooth it out. Bake for 20-25 minutes until the brownie has a crisp, sugary crust and is just set. Leave the brownie in its tin, placed on a wire rack to cool. The brownies are delicious served warm but will keep in an airtight container for up to three days. Brownies tend to go stale more quickly if cut in advance of serving, so cut these into squares just before eating.
Share