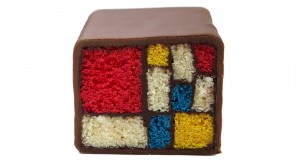 The UK Art Fund has just started a new fundraising initiative that will hopefully raise money for museums and galleries in the British Isles, but also get people into the kitchen!
With the rise of the 'food porn' trend – where people take pictures of their dishes – the Art Fund's campaign goes one step further by aiming to replicate historical and iconic masterpieces from the ingredients in your fridge.
Who needs to look at a finely sculptured duck confit when you could gaze at a De Stijl inspired slice of Battenburg cake and ponder about the reduction of the world around us to its rawest and simplest of forms?