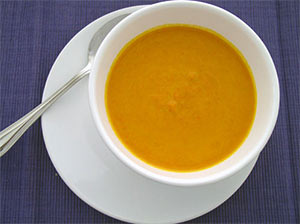 It is certainly soup weather at the moment.
On these gloomy – and being British, decidedly wet and windy – days, it often takes more than an alluring smell to perk up interests and inject a little spring in the steps of people who are feeling the ill effects of the endless horizon of grey clouds.
It is a time of year when the family meal would often consist of hearty foods: stews, puddings and casseroles, that kind of thing.
To preface most main Sunday meals a soup would be served.
In order to provide a little uplift in spirits, here's a soup recipe that will immediately grab the attention of your senses and leave you with a lovely little fuzzy feeling (the good kind!) in your stomach.
It is a bit of a fusion as it draws together food stuffs from across the globe and the starter accommodates ample amounts of alliteration – Curried Coconut Carrot Soup.
Ingredients
½ inch of fresh ginger – peeled and smashed
½ yellow onion – coarsely chopped.
½ cup of coconut milk
1 tablespoon of olive oil
1 pound of carrots – peeled and sliced
1 bay leaf
1 clove of garlic – smashed
2 tablespoons of curry powder – for this recipe, we recommend a mild powder
2 ½ cups of vegetable broth
Salt, to taste
Pinch of cayenne pepper
Method
Add the olive oil to a saucepan and heat at a medium temperature.
Put the garlic into the pan and then sauté until fragrant
Now, add the carrots, onion, ginger, bay leaf, curry powder and the vegetable broth and bring the mixture to the boil before reducing the heat and simmering until the carrots are softened.
Let the soup cool for around five minutes and remove the bay leaf.
Pour half of the soup into a pot to blend as they will generally be too much mixture to blend at once. Repeat with the remaining half and transfer everything back into the pan.
Heat the now blended mixture on a medium heat. When warmed, stir in the coconut milk.
Add salt to taste, if required.
Remove the soup from the stove when it has reached your desired temperature.
Garnish with some ground black peppercorns to add a kick of warmth to brighten up the gloomy day.
Enjoy!
Share