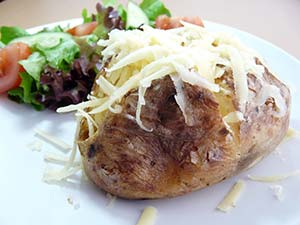 To round off our potato themed week of blog posts where we pondered if the perfect chip could exist, talked about chip week and genetically modified potatoes, and introduced the Bake-King Mini, it is time to round these past few days off with a tip or two on how to make some of the best baked potatoes around.
Chips may reign supreme, whilst mash is incredibly adaptable, but sometimes you can't beat a great jacket; crisp, crunchy skin covering the white fluffy innards with a topping, gently melting over it.
It doesn't get better than that.
They are enjoying a renaissance at the moment as the desire for healthier fast-foods take hold. In winter times you can see street vendors with Victorian themed carts pop up and become a fixture in towns and cities serving this immensely popular spud.
The choice of potato is, as ever, integral and up for debate. We recommend using a Rooster variety which is easily recognisable by its russet red skin and are some of the most popular and easily available types out there.
All you need is a potato, some oil and salt, an oven (of course) and some luck. After all, Nigel Slater did say that a good jacket is 'as much about luck as good planning…sometimes [it] does its own thing.'
But getting the basics right helps
Method
Wash the potato and leave to dry. (If using ready-washed potatoes you can obviously skip this step)
Pre-heat the oven to 375°F (190°C)
Prick the skin a few times before rubbing a touch of olive oil.
Rub salt into the skin – this will draw out the skin's moisture and provide some extra crunchiness.
Leave to bake for around 1¾ hours.
Remove from the oven and give the spud a squeeze. The skin should be crisp and the potato should give – if not, return to the oven for another ten minutes or so.
Serve and add your toppings
There is an alternative method that requires a lot more TLC, picked up from a cookery forum. Whilst they are cooking, remove every fifteen minutes and baste the spud with duck fat, bacon grease or any other relevant alternative to add a subtlety of flavour.
Though if you are cooking jacket potatoes in a commercial environment then we should obviously point you in the direction of the spud-centric ovens by King Edward!
Some people keep the skin on whilst others only attack the inside. Which type are you? 
Share