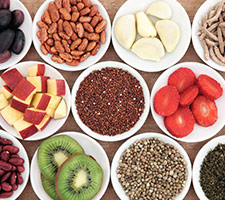 Earlier on this year it transpired that five portions of fruit and vegetables a day may not be enough and that figure should be revised upwards to seven.
To quickly recap, the research, conducted by scientists from University College London, stated that having at least seven healthy portions was associated with a 42% lower risk of death.
This came at a time when the World Health Organisation is warning the childhood obesity is on track to become the norm.
One question that people have been constantly asking since the results of the study were made public is 'how do I fit seven servings in to my eating routine?'
Well, hopefully we here at CS Catering Equipment can provide a few little pointers to help. It might not be the magic bullet, but it'll certainly point you in the right direction. So onwards we go!
Eat fruit
Okay, so the first point on the list is not exactly reinventing the wheel but whilst on a tea break instead of having a biscuit, or holding back from an accompanying snack, plump for a piece of fresh fruit instead.
And if you think that apples and pears are foods to be eaten solely as deserts or in isolation, think again. Throw some slices of apple in a walnut salad or pair up some pear with some blue cheese. Mixing fruits with salad has seemingly fallen out of fashion, but all things retro are cool these days, so it's time it make a comeback.
Replace those potatoes
Now we are not advocating the complete dismissal of the potato – none of us here could ever give up roast potatoes that accompany a Sunday roast – but try supplementing your cooked potatoes be they mashed, boiled or roasted with other colour bits of vegetables.
Throw in parsnips and beetroot when doing that fabled Sunday variety of potato or if mash is on your agenda go for that favourite of clapshot and mash up plenty of carrots and swedes. One masher to rule them all?
Quick and simple, and you won't have to alter your cooking method or whip out any extra kitchen utensils.
The two 'S's
Sauces and soups.
Just go to town with the vegetable content – within reason of course. Throw in a heap of vegetables and stick the blender in and let it do its job. Obviously plan your concoction, but if prepared well the results will be fresher, and tastier, than tinned or canned alternatives – and they'll most likely be healthier too!
Try something different
It's a big wide world out there with numerous possibilities; let your imagination run wild, or simply pick something different off the shelves or order something unusual when dining out.
Durian anybody?
Share