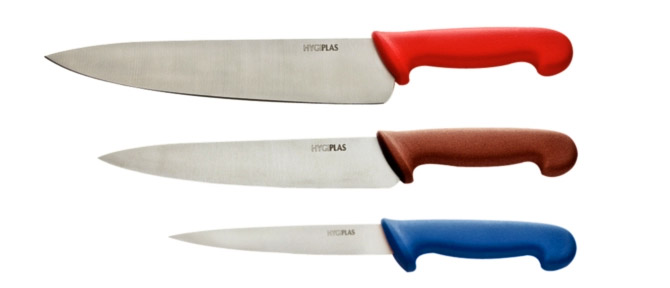 Good knives are the one essential, non-negotiable item that every kitchen needs.
The following are the very minimum to be able to perform basic tasks:
1. A small paring knife
2. A carving knife suitable for slicing, boning and filleting
3. A large cook's knife for slicing and chopping
4. A serrated bread knife
5. A utility knife
Buying your knives as a set may be cheaper and easier but is unlikely to suit your needs perfectly.
Instead buy each one singly, looking at a number of examples of each style of chef knife to find the size and weight that suits your hand.
Hold each knife to check it feels comfortable and balanced.
This is also not an area to save money; good knives are an investment and an example of how 'you get what you pay for'.
You will also need a sharpener to go with your chef knives.
A traditional steel or whetstone is usually suitable for domestic use and the best ones have a very hard-wearing diamond coating.
Sharpen your knives little but often otherwise they will be not only be difficult but also dangerous to use.
In addition to your knives, consider buying a mandolin for slicing.
It is the easiest way to achieve uniform, thin slices or shreds.
French metal ones are considered the best but are expensive while smaller, plastic framed mandolins won't last as long but are cheaper and perfectly adequate for home use.
A curved chopping board with a matching, two-handled blade known as a mezzaluna both look great in the kitchen and are the best way of chopping herbs finely.
Share