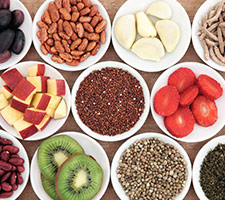 Not that long back we talked about improving our eating experience by involving all our senses in the process. Tasting and smelling food items is one thing, but researchers from a gastronomic institute in Italy claimed that we all should try and strike up a resonance with what is on our dinner plate and getting a very literal feel for it.
Well after that our attention has been piqued by the results of a recent experiment run by a drinks company – and the results have caught many within the beverage and catering industry by storm.
The practise is labelled as 'neurogastronomy' by its leading promoter, Professor Charles Spence, who chairs the Crossmodal Research Laboratory which is based at Oxford University.
"Neurogastronomy is based on the realisation that everything we eat or drink is processed by our senses," the academic told the BBC. "We see it, we hear it, we smell it, we taste it, we feel it. All those senses come together," and as such, the theory goes, we experience food like never before.
Professor Spence, who has worked alongside some of the most famous and pioneering chefs in the world, found that he could alter the perception of diners by subtly altering the environment whilst they ate.
For those who were eating Heston Blumenthal's egg and bacon ice cream he noticed people reported differently when they were exposed to the clucks of a chicken or the sound sizzling rashers. With Ferran Adria he conducted an experiment where two groups of people were fed the same dessert on different coloured plates, finding that the food allegedly tasted sweeter when served off a lighter piece of crockery. Subsequent studies also found that rounded plates accentuated sweeter tones from dishes.
Unsurprisingly it has got businesses pondering.
Perhaps the most well-known – perhaps the most infamous also – proof that neurogastronomy is alive and well was the publicised backlash when the shape of the Dairy Milk bar changed and people flooded in to complain that the recipe had been tampered with. In reality, angular chunks had been displaced by rounded pieces to encourage a better mouth feel. People, initially, weren't convinced.
Share