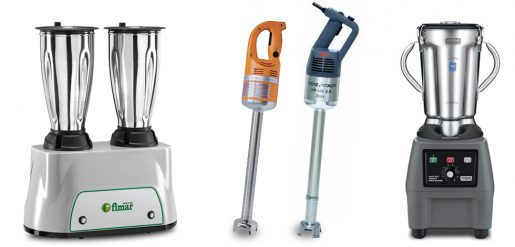 Blenders: Which one's for me?
Every commercial kitchen needs a blender, but the type of blender required will depend upon your offered menu, and the function you need it to perform.
The individual merits of each type of commercial blender are explained below:



Kitchen blenders have a tall polycarbonate or steel container, which is detachable for easy cleaning, with a tight fitting lid and one blade. Most have a variable speed function to be able to sufficiently deal with a variety of ingredients. With a variable speed setting, you have greater control over the consistency of the end result.
A Kitchen Blender is ideal for creating soups, pesto, pate and smooth sauces as well as some being able to handle frozen ingredients. Commercial Kitchen Blenders are more powerful than their domestic counterparts, with some models having up to a 1500W output, and large capacity jars.



Stick Blenders (also known as Immersion Blenders) are a hand held piece of equipment that allow you to pulse large quantities of foods very quickly.
One of the benefits of using a stick blender is that you can use it to blend ingredients in-situ. A pan of soup, curry sauce or potatoes can be easily blended with the correct sized stick blender. Stick blenders can be stored on a wall (with a suitable bracket), or in a store room, freeing up valuable worktop space. Pan brackets are also available for larger models to add stability when processing large volumes of product.
Various attachments are available to increase functionality, including; whisks (to incorporate air into soufflé or to mix creamy mashed potatoes), beaters (to whip heavy cream or egg whites) and ricers (to handle cooked vegetables and fruit). Stick blenders are available in a wide range of sizes. To make sure that you are ordering the correct size for your needs, always make sure that the shaft length of the blender is greater than the vessel with which you will be using it.



Bar Blenders are blenders tailored to making cocktails, smoothies and milkshakes. Usually found front of house, they have a more aesthetically pleasing design, with a clear polycarbonate jar for visibility when mixing.
Some models with a larger motor can also crush ice and popular ingredients such as pre-chopped chocolate bars and frozen fruit, giving you additional flexibility to make frozen drinks all year round. Depending upon your level of demand and usage, there are various options available in this range. The key features to look out for are jar capacity, motor output, and features such as 'pulse' or 'slow start' options for a more refined control of the texture produced.
Jars are detachable for easy cleaning, and additional jars are available to avoid cross contamination of allergens.
Some larger units are also fitted with a sound dampening enclosure to minimise noise output, which is ideal for when ice or solids such as frozen fruit or nuts are being incorporated into the drink.
Share