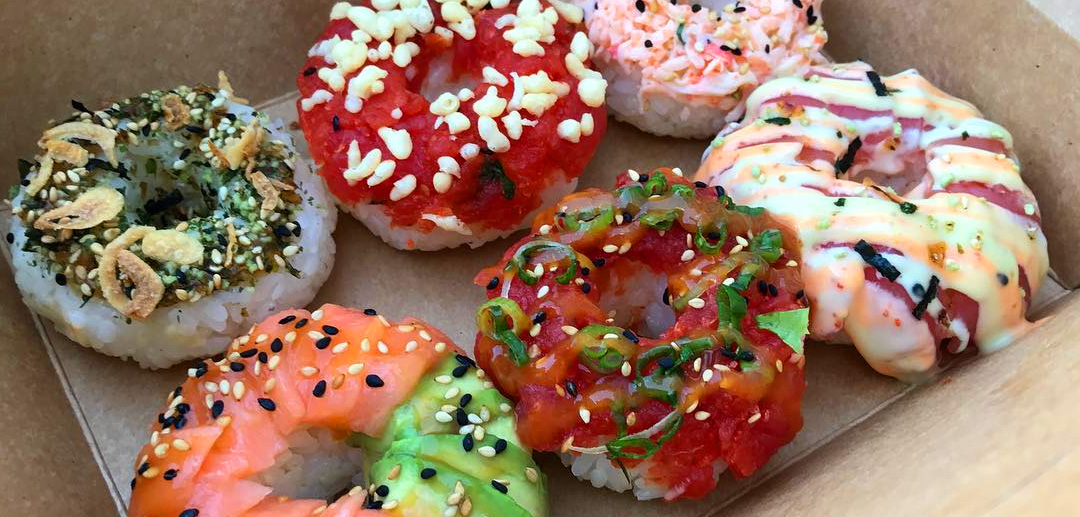 Most people agree that doughnuts are a delicious tasty treat that come in a flavour for everyone. Some people like a basic jam filling, others like theirs a bit more extravagant. As a famous cartoon character once said, "Mmmm, Doughnuts…".
But would you choose a doughnut with an eel sauce or wasabi mayonnaise topping? In the weirdly wonderful world of Instagram, #sushidonut and #sushipizza have been trending alongside photos of bright, interesting and well-presented doughnut shaped sushi arrangements.
The creative trend of making food look like other completely different food continues to be ever popular, but would you eat raw crab and rice shaped into a doughnut and topped with pickled ginger and eel sauce?
It's not for everyone, but there are a lot of dedicated sushi fans across the world, creating their own #sushidonut delights with various ingredients,toppings and decorations, all made from all sorts of creative ingredients.
Where did they come from?
Poke Burri is the creator of the original idea, a seafood restaurant specialising in Poke and Sushi Burritos. They use Poke, which is diced raw fish served and is one of the main dishes of Native Hawaiian cuisine.
They're also known for creating sushi burritos and sushi pizzas, which also look pretty fantastic. Whilst this writer is unfortunately not a fan of sushi, I think everyone can agree – these doughnuts look pretty amazing!
What are they made from?
One of the great things about sushi doughnuts is the creativity involved, there's a wide variety of ingredients that you can use, the possibilities are endless!
Typically they are made from rice, and then wrapped in additional ingredients – ranging from tuna, salmon and crab – to toppings like jalapeño, avacado, wasabi, cucumber fried shallots, masago, radish and even picked ginger.
People worldwide are experimenting with all sorts of exotic ingredients and local flavours depending on where abouts they are located.
Would you try one?
Top image source: Poke Burri on Instagram @pokeburriraleigh
Share