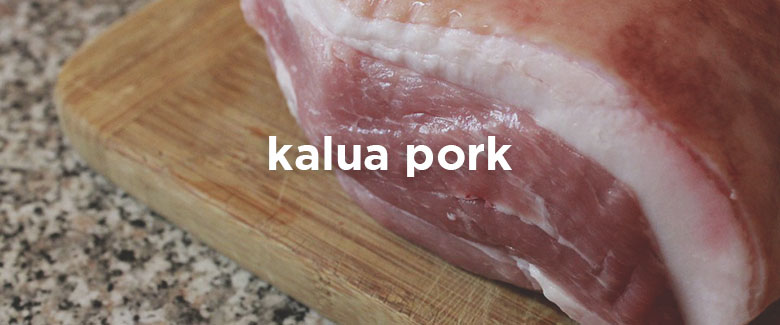 You've probably never had Kālua pig before, that's because it's one of Hawaii's best kept culinary secrets.
The word Kālua literally means "to cook in an underground oven", with any dish cooked in this method taking the name, such as kālua pig or kālua turkey.
Incredibly simple, healthy and also insanely tasty. Kālua pork is slight variation on one of the Pacific islands finest exports, and we're going to explain how to cook the dish without needing an underground oven!
Traditionally cooked in a a dirt pit called an "imu", and on sandalwood. This Hawaiian cooking pit is usually about 6 feet (1.8m) long, 4 feet (1.2m) wide and 3 feet (90cm) deep.
Rocks are used in the bottom of the pit to keep the cooking temperature consistent once any flames have died down. When the rocks get extremely hot, the pit is lined with banana leaves.
The pig/pork is salted, stuffed with more hot rocks, then wrapped in ti and banana leaves and covered with wet burlap, and a layer of sand or soil.
Cooked for 6 to 8 hours, the pig absorbs the smoke and steam from the wood and leaves, giving it a unique smoky flavour.
Served at luau feasts, at one time the United States Department of Agriculture prevented traditional kālua pig from being sold commercially except in Hawaii.
For those of us that don't have access to a cooking pit, we are going to show you how to cook classic kālua pig/pork in a pressure cooker.
Ingredients
1 tablespoon oil
2 lbs pork roast
1/2 cup water
2 tablespoons Wright's Hickory Liquid Smoke
2 tablespoons soy sauce
2 tablespoons brown sugar
1/2 tablespoon Kosher salt
Method
Select Browning and add the oil to the cooking pot. When it's hot, brown the pork on both sides, about 3 minutes per side. Remove to a platter when browned.
Turn pressure cooker off and add the water, liquid smoke, soy sauce and brown sugar to the cooking pot. Add the pork and its juice juices to the pot. Sprinkle the salt over the top of the pork.
Select High Pressure and set timer for 60 minutes. When it beeps, use a natural pressure release to release the pressure, for about 20 minutes. When the valve drops, remove the lid carefully.
Remove the meat from the pressure cooker and shred with two forks. Serve immediately with some steamed rice.
Share