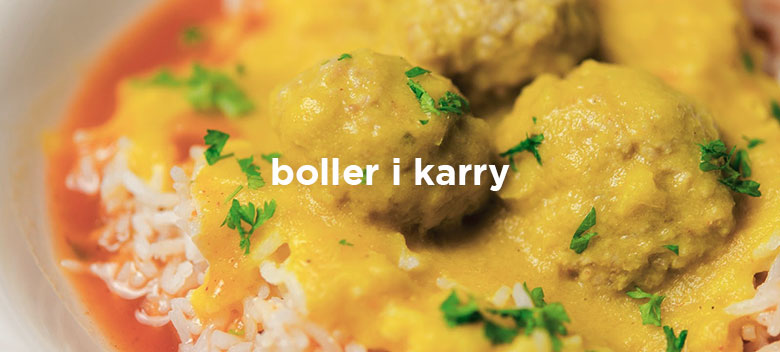 When you think of Denmark, you probably wouldn't think of curry as one of the nations signature dishes.
Boller i Karry is Denmark's traditional meatball and curry medley that is much-loved throughout the small, but beautiful country.
Mildly spiced, this is not a recipe you want to miss out on, and could be an excellent addition to any family menu…
Not just tasty, these meatballs are also incredibly colourful, with the recipe supposedly dating back to around the 1840s.
This coincided with the introduction of curry powder mixes to the Danish public, but due to the limited availability of rice, these meatballs were served with potatoes.
The real secret to this dish is the incredibly mild spice flavour – it must not in any way be hot like dishes from the Far East – instead being smooth and mellow.
With over 150 years of history, there is a reason why this is such a common sight on Danish dinner plates. Those Danes must be on to something…
Ingredients
Meatballs
500 g pork or mixed (pork + beef) mince
3 Tbsp flour
100 ml (7 Tbsp) milk
1 egg
1 small onion, finely chopped
salt and black pepper
Curry sauce
2 Tbsp butter
2-4 tsp mild Indian-style curry powder
1 small onion, finely chopped
3 Tbsp flour
about 600 ml bouillon (= the water you boiled the meatballs in)
100 ml single or double cream
1 Granny Smith apple, coarsely grated
salt and black pepper
Method
Meatballs
Start by making meatballs. Mix all ingredients, then form into large meatballs (I took heaped teaspoonfuls of the mixture).
Fill a medium-sized saucepan with water, bring into a boil and season with salt (you can throw in some bay leaves and allspice berries as well, if you wish).
Gently drop the meatballs into the "bouillon" and cook for 7-8 minutes, until fully cooked.
Remove from the stock with a slotted spoon and put aside on a plate.
Curry sauce
Melt the butter in a saucepan, add the curry powder.
Stir, then add the onion and fry gently for 5-7 minutes.
Stir in the flour, cook for a minute or two, then add about 2 or 2,5 cups of "meatball bouillon".
Stir carefully, so no lumps remain.
Add the cream, then the grated apple.
Season to taste with salt and pepper, then return the meatballs to the sauce and cook until the meatballs are piping hot.
Serve with boiled long-grain rice and some vegetables of your choice.
Share