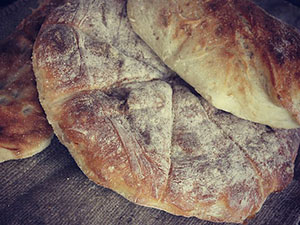 An early morning slice of bread, toasted, and then covered in butter and (lime) marmalade is one of the simpler things in life that I enjoy from time to time. Come to think of it, I really do like a good bread and butter pudding as well.
Basically, I like bread – this recipe is great too by the way.
However there is one freshly cooked loaf that I think would have to be kept away from the toaster or the oven. Instead of finding a home in the breadbin, it is more likely to take up residence in a heavily guarded Swiss bank account.
Robert Didier, who at one point trained with Raymond Blanc, has baked what is set to become the United Kingdom's most expensive bread.
The bread was unveiled at a Welsh food festival last weekend.
What makes this luxurious loaf so lavish?
Well, according to Mr Didier, a centuries old tradition of stuffing exotic ingredients into bread has been revived. "In the [1500s] the baker of the palace or manor house was expected to produce loaves of bread that reflected the status of the lord or king," he explains. Therefore, there was a trend for some rather interesting additions.
Didier has followed in their footsteps, presenting an expensive new loaf of bread which is made from champagne and edible 24 carat gold flakes.
"You can't get more opulent than that," Mr Didier said.
The good news for the health conscious though is that the "gold flakes are edible and are used in medicine. Herbalists believe it's everything from an aphrodisiac."
This carries on a relatively recent trend which has seen the price of bread rise as bakers turn their attentions to premium products. The previous record was The Shepherd Loaf, created by Tom Herbert.
Herbert's concoction, which initially went on sale in 2010, was made to a secret 55-year-old sourdough recipe which contained organic flour, spring water sourced solely from the Cotswolds and Cornish sea salt.
It all seems a far cry from the supermarket price wars in the 1990s which culminated in Kwik Save selling its own-branded 'no frills' variety of just 7p.
But back to the gold leaf and champagne loaf. It's "not something you would necessarily want every day," Didier noted, suggesting that it is more "for a special occasions [as it has] a bit of a wow factor."
A bit?
---
If you want to get in on the bread scene then you can't go wrong with this Ital spiral mixer. Once purchased you too can join the world of decadent doughs!
Share