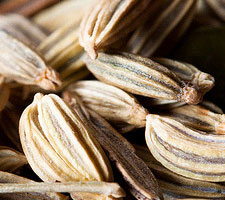 They say that no food disappears from the culinary bibles altogether. Sometimes they may vanish for a while and then make a renaissance decades later, or they may lay dormant before somebody brands them as 'cool' and markets them as the latest in a long line of 'super foods'. Or, as is the case with this tale, you could be sat wistfully reminiscing and then, suddenly, flavours and memories come flooding back.
When I was younger there was fennel in the garden; growing tall – or maybe I was just short – it tended to act as a quasi-fence separating grass, soil and path; other times the clumps became battered goalposts; and then, it was used to cook with.
But, for some reason, it vanished.
Fennel has been around for eons. Indigenous to the shores of the Mediterranean, the herb was named in the Old English text Nine Herbs Charm as an ingredient that could be used to counteract infections and the deadly effects of poison.
It's also the reason why we have fire!
Prometheus used a stick of fennel to steal fire from the Gods, according to Greek mythology at least.
Fennel is a brilliant aromatic herb that has a slight hint of sweet anise and as such, it is commonly used in many cuisines across the world. It's also fairly easy to grow as well so it's a perfect garden herb to cultivate at home.
So add a little fennel to your kitchen creations and to get you started, here's a recipe that's simple to make, does not take too long and allows positions fennel perfectly on the palate.
Fennel-crusted Pork loin chops
Ingredients
2 Pork loin chops
1½ tsp fennel seeds
1 clove garlic, finely grated
Vegetable oil
Salt and pepper
Method
Heat the fennel seeds in a skillet over a medium heat for a couple of minutes.
Combine the seeds with the garlic, salt and pepper, and two tablespoons of olive oil.
Rub this mixture and leave for thirty minutes in a closed container.
Either gril the pork chops or cook them in the skillet until golden brown.
Serve
But what accompanies this easy-peasy pork loin chops?
Well, we will leave that decision to you.
photo:Liji Jinaraj (Flickr), used under Creative Commons
Share