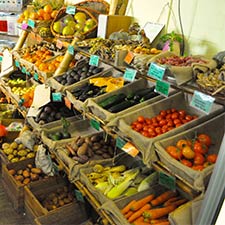 The common consensus has been that eating five portions of fruit and vegetables is the healthy target hit per day, but new research shows that the figure should be increased to seven in order to prolong lives.
A study of over 65,000 people indicated that the more fresh fruit and vegetables consumed, the less likely they were to die – at any age. It is said that this new seven a day initiative would further cut the risk of people dying from cancers and heart disease.
Currently, the NHS recommended that everybody has five different servings of roughly 80g a day. This latest piece of research was carried out by people from University College London (UCL) used the National Healthy Survey, collecting their data through questionnaires and other methods, looking at individual diets and lifestyles.
It found that the risk of death, by any cause, was reduced by 42% for those that ate seven or more healthy helpings, as opposed to 14% for those who ate a maximum of three servings of fruit and veg.
Fresh vegetables were found to have the strongest protective effect, followed salad and then fruit.
A statement released by the University of Liverpool said that "The UK's '5 a day' campaign offers a target which is pragmatic, but one which might provide a false reassurance and risk complacency in the quarter of the population that already hits that target."
The lead investigator, Dr Oyinlola Oyebode, stated: ""The clear message here is that the more fruit and vegetables you eat, the less likely you are to die – at any age."
She also mentioned that eating a few portions a day was better than eating none at all.
However some exports claimed that the study was not conclusive and that other lifestyle factors skewed the findings whilst Professor Naveed Sattar, from the University of Glasgow, mused that implementing this shift would be "very challenging", suggesting that it would require government support through subsidies to get anywhere close.
Will this new piece of research alter how you prepare and present meals in your establishment; will the menu be slightly altered to give a gentle helping hand to the general public?
Interestingly, Australia promote a 'five plus two' message where people are encouraged to eat five portions of vegetables who to servings of fruit.
photo: Michael Stirling
Share