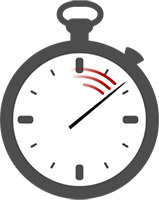 How long are you prepared to wait for your food after ordering?
Well, it appears that the average time customers are willing to linger in restaurants around making small talk clocks in at less than sixteen minutes
The analysis, of some 5,000 UK based consumers was conducted by Peach Factory and aimed to look into the impact that waiting times had on the hospitality industry.
Statistics thrown up in the data concluded that the people of Britain liked to be expediently served.
The figure of sixteen minutes decreases to twelve minutes and twenty-seven seconds for those waiting in pubs whilst it drops even further to a miniscule six minutes and eighteen seconds for those who order in fast food chains.
There was a geographical spread in the results. Those in the East Midlands were prepared to time-waste more, with Londoners coming second in terms of perseverance – going someway to dispel the myth that natives of the capital are always in a rush.
It was the Welsh who had the least amount of patience; absconding after a waiting period of just over fourteen minutes.
Just like there was a split between different regions of Great Britain, there was also a divide between the genders. Women were found to be far more enduring across the board than men when waiting to be served.
Interestingly the study found that people were proportionally more patient when it came to waiting for their morning coffee or their lunchtime sandwich and were willing to wait for eons when it came to ordering drinks at a bar.
"Sixteen minutes might seem a long time for hospitality outlets to leave their patrons waiting," said Steve Thomas of Omnico Group who commissioned the survey. "But in reality," he continued, "it's no time at all and a lengthy wait can impact loyalty and customer experience."
How long you would wait?
Share