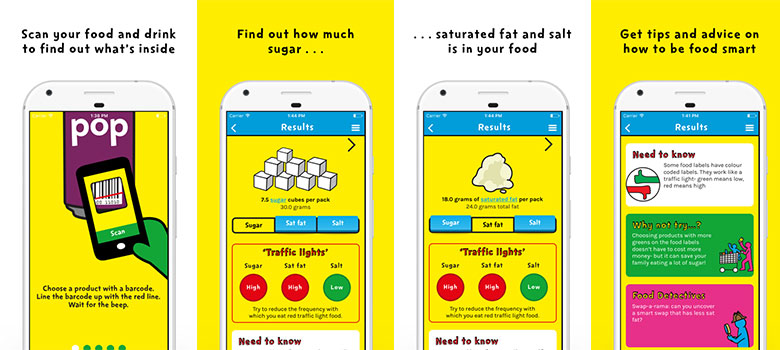 Public Health England under the guise of their Change4Life branding, has launched a campaign to help us work out just what exactly we are eating on a daily basis.
The campaign – dubbed Be Good Smart – includes a mobile application for both iOS and Android, and gives us an indication of how much salt, sugar and saturated fats are in our common food items.
With a particular focus on the children of Great Britain, it also provides easy and fun ways to help your children make healthier food choices…
Building upon the previous sugar tracking application released by Public Health England last year, the Be Food Smart application will look to improve upon the 2 million downloads achieved with the previous build.
The interface is easy to navigate, and shows the amount of sugar, fat and salt content as cartoon renderings of a sugar cube, fat globule and salt packet. No doubt enhancing the experience for younger audiences.
Users simply scan the food or drink item to get an indication of how healthy it is, with a "traffic light" system being used to indicate whether the foodstuff is rated high, medium or low in each particular ingredient.
With a database of just over 114,000 products, using manufacturer and retailer data, there are few items that can't currently be scanned.
Costing around £6.3 million pound, it is hoped that this will help people take the appropriate steps to make healthier life choices, especially when faced with contextual information as to what is actually in their food.
Including a range of healthy recipes, the Be Food Smart app is a great way to understand what our foods actually contain, whilst providing us with simple to follow and easy to replicate results.
If you would like to download the application then please click on one of the following links to the appropriate store for your smartphone or tablet device:
For more information on the campaign and Change4Life, then please visit: www.nhs.co.uk/change4life
Share