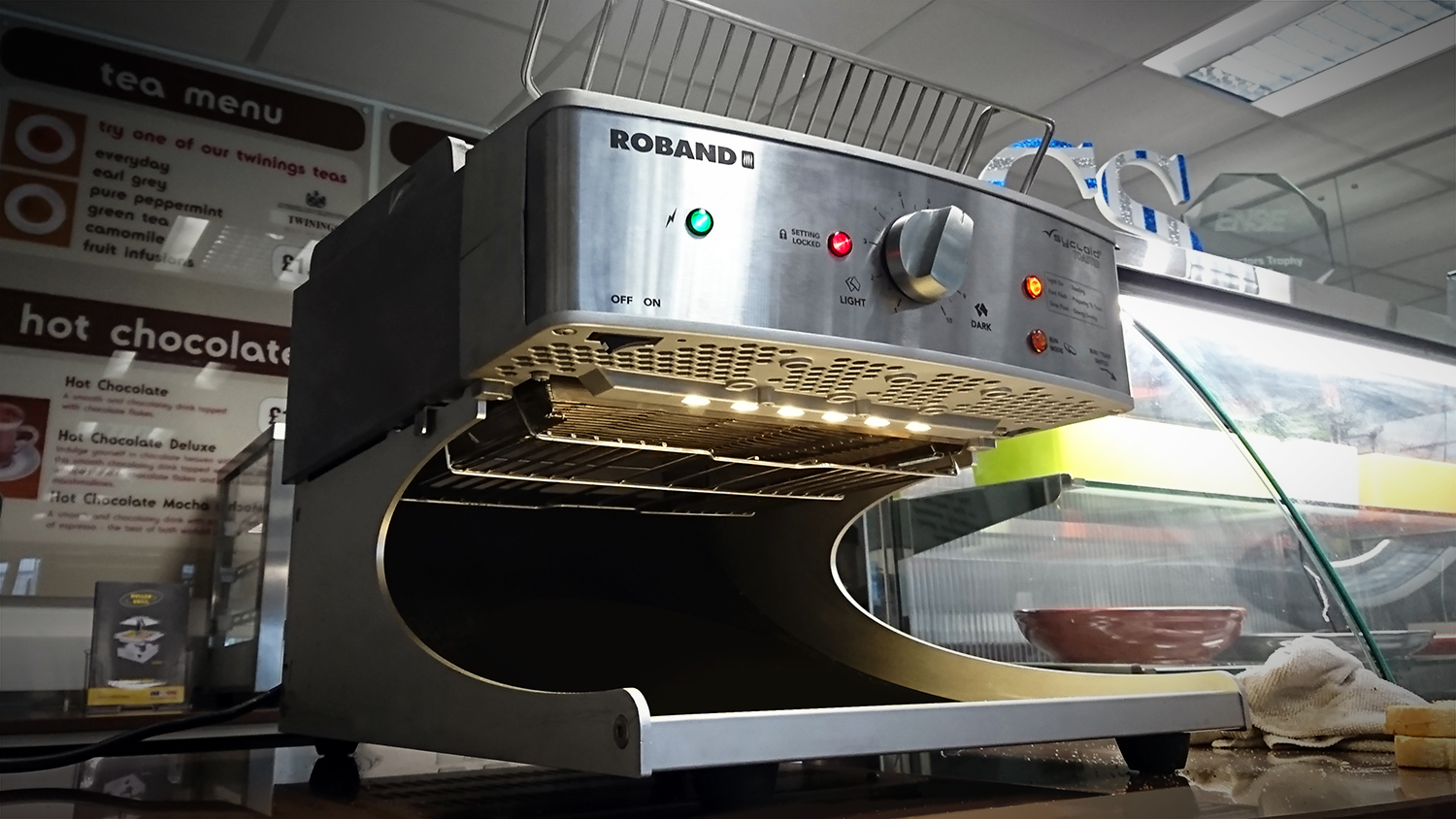 Recently we were treated to some toast, demonstrated by the Roband Sycloid 5RST500A Conveyor Toaster. This product offers a number of useful features that enable toasting up to 500 slices per hour, as well as bun halves up to 30mm thick – all in one sleek and compact unit.
It's available in a brushed stainless steel finish, as well as red and black versions depending on your tastes or colour scheme. The setting lock feature allows you to use the unit in both regular service and self service; as this prevents the toast setting being altered accidentally or by others.
What do you put on your toast? We had a variety of different toppings for our toast, and once the bread is loaded into the machine, it's only a brief wait before the perfectly toasted result slides down the chute below.
I'm a lover of a simple strawberry jam, but we also have fans of peanut butter and even just a bit of butter. Clean up is easy, too – the machine uses a removable crumb tray that keeps mess at bay and makes the job much easier. As does the lockable lid, which is easy to unlock and clean the inside too.
Features:
– Can toast sliced bread up to 30mm thick
– Also able to toast bun halves up to 30mm thick
– Designed with "cool to touch" safe external touch temperatures
– Automatic power saving mode conserves energy during quiet periods
– Speed controller allows fine tuning of the toasting time
– Indicator lights keep you informed on the machines status
– Removable crumb tray makes cleaning quicker and easier
– LED lighting
– Hinged and locked lid provides access to the interior for cleaning
– Available in Brushed Stainless, Red or Black finishes



We had a great time learning about the Sycloid and how it works, as well as the efficiency, safety and benefits it offers to both businesses and customers alike. Due to it's sleek and modern appearance, it is perfect for front of house service use for breakfast use.
One thing that was also noted was the machines quietness, due to its clever use of cycloid motion to move the toast around the elements in a smooth motion. The simpler design of this mechanism also reduces the most common maintenance issues associated with conventional conveyor toasters using a drive chain system.
If you're in the market for a new commercial conveyor toaster, this one is worth your consideration. You can view all of our commercial toasters here.
Share