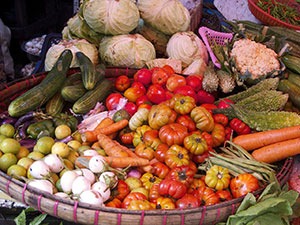 There are many numerous and well documented benefits to eating your greens and gobbling up your vegetables.
However a new study, conducted by researchers based at the University of Warwick, has revealed that eating your fruit and vegetables can boost mental health.
The people based at the Medical School, located in Coventry, collected data from the national Health Survey of England.
After crunching the numbers it was revealed that there was a correlation between a person's mental wellbeing and the amount of fruit and vegetables that they consumed.
Around a third of the respondents were described as having a 'high mental wellbeing and these were found to generally eat five portions of fruit or vegetables during the day.
"These novel findings suggest that fruit and vegetable intake may play a potential role as a driver, not just of physical, but also of mental wellbeing in the general population," said the study's lead author Dr Saverio Stranges.
Fellow author, Professor Sarah Stewart-Brown, also commented on the analysis by saying that: "Mental illness is hugely costly to both the individual and society.
"It has to become very important that we begin to research the factors that enable people to maintain a sense of wellbeing."
To go alongside these findings we have flicked the pages through our cookery books and found this simple seasonal recipe that contains its fair share of vegetables.
Roasted Pumpkin Risotto
Ingredients
750g Diced pumpkin
20g butter
2 crushed cloves of garlic
1 onion, chopped
200g Arborio rice
2 tbsp olive oil
1 pint vegetable stock
Grated parmesan and chopped parsley as accompaniments
Method
Preheat the oven to 200°C
In a bowl, toss pumpkin and 1 tsp olive oil together and season. Place in a lined baking pan and bake for 15 minutes, or until tender.
Heat the remaining oil in a saucepan on a medium temperature. Gently saute the onion and garlic for around 5 minutes. Add the rice and cook for a few minutes.
Introduce the stock and stir constantly. Continue adding the stock, 1 cup at a time, until the rice is tender and creamy. Roughly 20 minutes.
Stir through the pumpkin and add the butter, parmesan and parsley. Season to taste and serve with it mixed in with the risotto.
Share