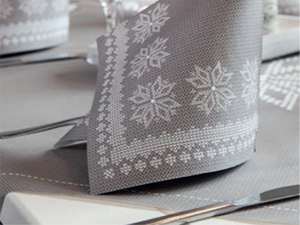 Urban and rustic decors have become very popular within the restaurant trade in recent years.
Characterised by exposed brick and woodwork, antiquated character pieces and open hanging light fittings; this scheme has been picked up by a new wave of establishments that have taken gastronomy to new heights of popularity.
On the surface, it may appear that Christmas themes may be out of the question. However there's always a style to suit any and all venues. But by adopting a neutral base palette with flashes of brighter colours of white, silver and gold, traditional festive colours can be injected without in any way being overbearing.
All items featured are available through the CS Catering web store.
---
Knitting Grey
Base colours: Grey
Highlight colours: White and silver
The Tablecloth
Knitting Grey Slipcover – £127.17 (ex-vat) for 100, pictured
Instead of positioning these lengthways, place these woven designed slipcovers on top of a plain coloured tablecloth and across the width of table. This creates a unique dining and communication avenue which increases interaction with the guests who are sat directly opposite each other.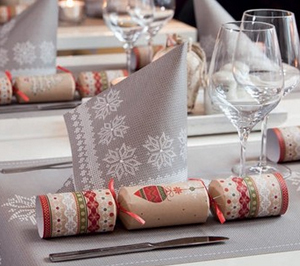 The slipcover itself might be grey, but with its knitted snowflake pattern the fabric exudes a homely ambiance that seamlessly fits into any establishment where there is a DIY ethic.
The Napkins
Knitting Grey Napkins – £48.98 (ex-vat) for 250, pictured
Once again the two tone design really does work well with and compliments urban decor.
Made out of a heavy-grade tissue that looks and feels like linin, these napkins display all the tendencies of a hand stitched fabric serviette – but without the additional costs of washing, drying and cleaning.
The Accessories
To complement the urban theme you could opt for these extremely popular wooden service boards which are ideal for providing main courses and signature dishes upon. As for cutlery, The curved design of Chef & Sommelier's Ezzo range beautifully juxtaposes the hand-woven jagged, almost linear pattern of the Knitting Grey slipcovers and napkins.
Finally, for some featured glassware; we recommend these Arc glasses.
---
Share