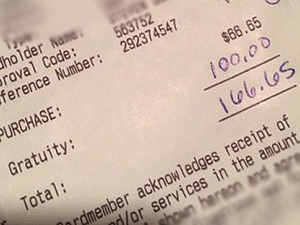 When on the receiving end of some poor service when dining out, a number of people would leave feeling somewhat disappointed while some might even take the establishment to task online and leave a negative review of their experience.
But one American couple, who described their meal in an Iowan restaurant as "terrible" bucked the trend.
 Instead of moaning, they gave their waiter a £60 tip
"People all around us were making fun of the restaurant and how back the service was. At one point we counted [that the waiter] had twelve tables [to look after]," the duo, Steven and Makenzie Schultz, said.
The couple were celebrating their sixth wedding anniversary at the time, something which makes their touching reaction to the chaos and calamity all the better.
They say that they waited for twenty minutes to receive a jug of water, forty minutes for their starters to arrive and an hour for their entrée.
Such were the delays that many customers were openly criticising employees.
Writing after the evening, Ms Schultz explained her actions: "As I sat there and watched him run back and forth and apologise for the wait, I said to Steven… Wow, this used to be us [and] I never loved that job."
"Steven and I agreed it would feel good to make this guy's night when he would probably be getting minimal [praise] due to slow service."
Talking to Buzzfeed she added she saw the bigger picture whilst others failed to notice that the restaurant was significantly understaffed and packed to the rafters: "People have been in that situation where it's not really the server's fault," she said.
There is also the underlying issue about service staff's wages in the United States. In America tips and donations from customers a crucial part of workers' incomes – more so than they are here in the United Kingdom – and that with the way that events unfolded in Cedar Rapids that night, staff would be left severely out of pocket.
Would you act in such a manner?
Share