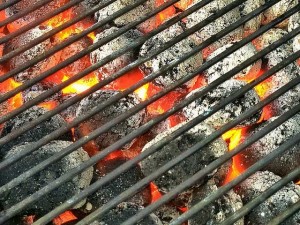 With the August Bank Holiday tantalisingly on the horizon just like the late summer sun, people are hoping that the weather holds up so that they can turn towards a little bit of outside catering over the course of this extended weekend.
But the Food Standards Agency has issued a few carefully chosen words on warning ahead of the elongated weekend.
Food poisoning, they say, is still a real danger and that problem is exasperated when people turn to cooking outdoors.
The results of a poll suggest that 94% of people admit to at least one bad barbecue habit.
The survey asked over 2,000 adults about their barbecuing practices and it was found that 21% of people believed that they had been ill from their alfresco adventures.
Worryingly, a third confessed that they didn't bother checking whether their food was cooked or not.
"Charred doesn't mean cooked,"the FSA say and the Governmental body suggest pre-cooking food and only using the barbecue or outdoor grill to finish things off.
They also warned people that disposable barbecues, so popular during these summer months, take longer to cook food and that extra time needs to be accounted for.
The comments have been released as part of the FSA's campaign to raise awareness about campylobacter, which affects more than 250,000 people every year.
"Food poisoning is a real rise at barbecues," says chief executive Catherine Brown.
"So we are reminding people to take good care of their families and friends by paying attention to simple food safety rules."
About half of the people questioned said that they use the same utensils for both raw and cooked produce, increasing the risk of cross contamination and the transfer of harmful bacteria which can cause discomfort and illness.
A simple solution would be to purchase colour-coded tongs.
Do you have any bad barbecue habits you're willing to share? Let us know via the comments box below
Share