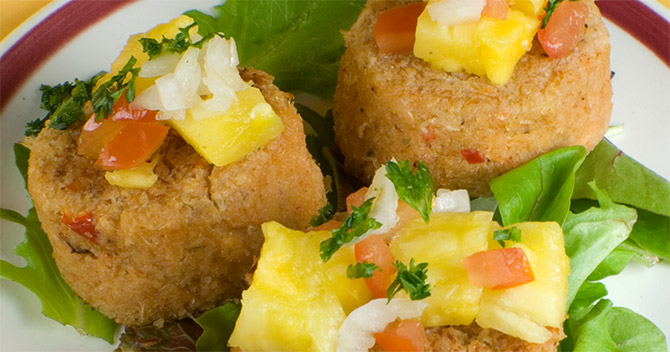 May features culinary delights apart from asparagus, among them various seafoods and herbs.
This fresh, tasty recipe makes the most of both.
You can use tinned crab meat at a push but fresh is much better and easily available at the moment.
To serve 4:
400g fresh white crab meat
2 spring onions, chopped finely
2 tablespoons chives
2 teaspoons dill, chopped
2 teaspoons parsley, chopped
A few drops of Worcestershire sauce
Zest of half a lemon
1 tablespoon mayonnaise
4 tablespoons plain flour
150g breadcrumbs
2 eggs, beaten
Sunflower oil
Cayenne pepper
Add the crab meat, spring onions, chives, dill, parsley, Worcestershire sauce, lemon zest and mayonnaise to a bowl and mix together thoroughly.
Add one teaspoon each of the flour and breadcrumbs to the crab mixture and combine well.
Make eight cakes out of the crab dough, adding a little more flour if the mixture is too loose to hold its shape.
Allow to cool for 30 minutes in the refrigerator, then coat in a layer of flour, dip into the beaten eggs and coat well with the remaining breadcrumbs.
Fill a pan up to about 4cm with the sunflower oil and heat until a piece of bread dropped into the oil sizzles gently.
Add the crab cakes to the oil and fry for about three minutes on each side or until the breaded coating is golden brown.
You'll probably need to do this in two batches.
Drain the crab cakes on some kitchen roll, sprinkle with a little salt and the cayenne pepper.
Serve immediately with lemon wedges, new potatoes and a green salad.
Share