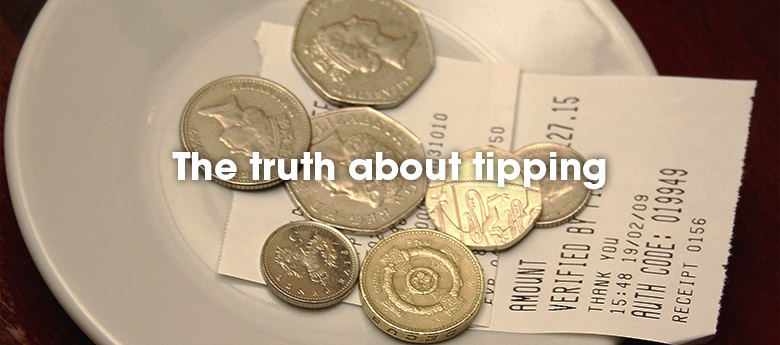 Tipping culture is not something that we've had to grapple with here in the UK, be that lucky for the customer or unlucky for the waiting and bar staff of these British Isles.
The premise is one that incentivises good service, but with strict minimum wage laws and safe working conditions for waiting staff, tipping is seen more as a sign of exceptional service in most restaurants, cafes and bars.
How much should you tip? Well it's not always as simple as just a set % of the cost of your meal.
A big problem with tipping is that you personally will not know how the company deals with this process. Is it a direct bonus for the staff? Does the management dip their hand in and skim off a large portion of the 'donation' you've made?
Unfortunately, there are businesses that have worked a loophole in contracts to give staff a base wage of £0 – yes zero. Nothing. Zilch.
London-based Tuttons Brasserie does this. This is not a practice that should be condoned, instead of paying staff a basic minimum wage, they are instead expected to work for the 'tip' which makes up their hourly rate. Of course, this could be considered a misnomer as Tuttons is perfectly placed in the tourist hotspot of Covent Garden, where hundreds of diners are served throughout the day.
Whilst this is rare, a somewhat more common practice was that of chains such as Carluccio's, Giraffe, Jamie Oliver's and a few select others, who would pay a basic salary below the minimum wage and use service charges and credit-card tips to top-up the take-home pay of their staff.
These chains eventually scrapped this after public and MP pressure, but these are just a few of the well-known chains who operated in this manner.
Of course, this can mean many of their staff exceed the minimum wage quite handsomely, there is no guarantee that staff will receive a tip at all for most meals.
A loophole in the minimum wage legislation means that this is all perfectly legal and above board, while a flick through HM Revenue & Customs' document E24 makes it clear why the practice has become so widespread. It reads: "If customers have a genuine option as to whether to pay the service charges, it is accepted that they are not consideration (even if the amounts appear on the invoice) and therefore fall outside the scope of VAT."
Essentially, this means that, as long as your bill states that such charges are either "discretionary" or "optional", the restaurant itself doesn't have to pay VAT on the money.
100% legal. But we think this is shady practice as the money we choose to leave is not for 'good service' but in fact paying the waiting staff's basic salary.
It's important to ask what restaurants are asking when they list 'service charges' on your bill. Simply ask your waiter if they can explain who is receiving what to make sure that the money you give goes where it is intended to go.
The government has produced detailed 'Best Practice' guides on service charges, tips, gratuities and cover charges here.
Share