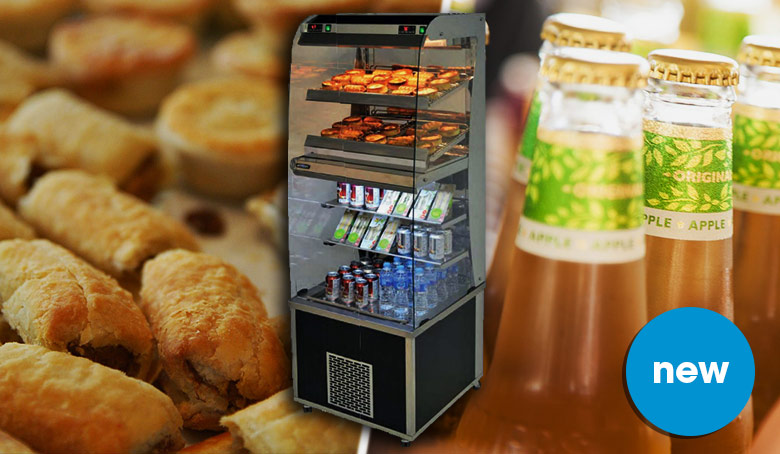 Maximising both floor space and unit capabilities understandably is a difficult task when running a cafe, canteen or coffee shop, especially if you want to offer a wide range of both hot and cold food.
For years, we've preached about how a quality display merchandiser can help maximise sales by providing a platform for hot and cold food and drink, giving customers direct self-service access to your quality items.
But until now, we've never been able to offer a one-stop shop for all things hot and cold. That is until Moffat released the MCH1 heated and chilled display merchandiser!
Two opposite ends of the spectrum, hot and cold are curious bedfellows, often we like a cold drink with our hot meal, or inversely a hot drink with our cold sandwich.
In our industry the combination of hot and cold is often avoided as the difficulties outweigh the benefits to consumers, but Moffat have cracked it with this newly announced MCH1 merchandiser.
Offering an upper heated gantry and lower chilled shelves, the MCH1 provides a complete hot and cold storage solution, making it perfect for businesses that are looking to offer the likes of hot pastries and more alongside cold drinks, pre-packaged sandwiches and desserts.
It's basically a one-stop shop, one-unit solution for the meal deal crowd. Not only that, but if you've had to choose between hot and cold storage before, lacking the space for both, well now you have an amazing option.
This unique combination makes it the perfect addition to a wide range of businesses that want to offer food and drink but haven't be able to do so before.
Own a petrol station? Cafe or coffee shop? Community centre? We literally cannot think of a business type that wouldn't benefit from the addition of the Moffat MHC1 to their foodservice areas.
Absolutely ideal for creating a meal deal buzz, guests and customers don't have to choose between hot and cold, they can have both!
If you would like to speak to a member of our friendly team about how your business can benefit from the addition of the Moffat MCH1 heated and chilled merchandier, then please call 01977 687 665 to discuss your options.
Share