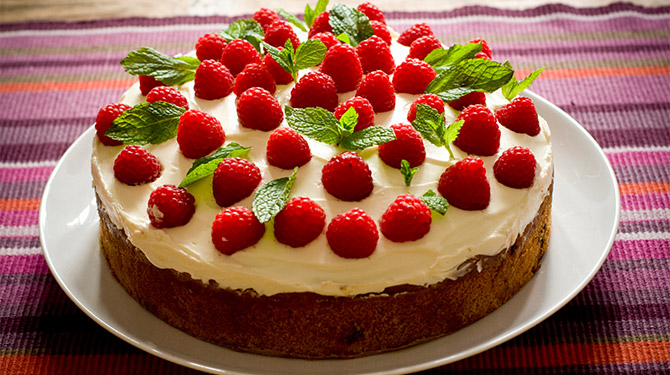 Use the last of the summer's amazing fresh raspberries in this light loaf that's ideal for afternoon tea.
Preheat the oven to 180C.
Grease and line a loaf tin.
250g plain flour, sifted
2 teaspoons baking powder
A pinch of salt
115g butter, softened
255g caster sugar
Juice and zest of one lemon
2 eggs
100g plain yoghurt
25g ground almonds
200g fresh raspberries
100g granulated sugar
Beat together the butter and caster sugar until creamy and fluffy.
Add the lemon zest and keep beating as you add the eggs one at a time.
Add a tablespoon of the flour with the second egg to avoid curdling.
When the eggs are well combined, fold in the rest of the flour with the baking powder, salt, ground almonds and yoghurt.
Add about a third of the mixture to the tin and top with about a third of the raspberries.
Add another third of the cake mixture, topping with another third of the raspberries and then finally the remainder of the cake mixture and the last raspberries.
Bake for about 45 minutes, until the top of the cake is starting to brown.
Cover with a loose layer of silver foil and cook for another 25-30 minutes.
The cake is cooked if a skewer inserted into the thickest part comes out clean.
Remove from the oven and allow to rest for 5-10 minutes.
Make a sauce of the granulated sugar and lemon juice, pour it over the warm cake and allow to soak in.
After five minutes, remove the cake from the tin and leave to cool.
To serve, sprinkle with some more granulated sugar.
Share