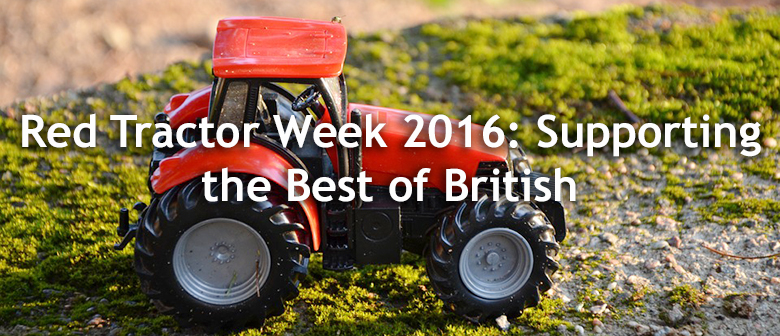 From the 12th to the 18th of September Red Tractor Week is a celebration of all things British, from vegetables to meats, to the very people who grow the fine produce that adorns our plates day-in and day-out.
Organised by the UK's farming union– the NFU – the scheme has been developed to get more people aware of the quality British products available at our supermarkets.
It's a celebration of of the best of British, and what could be better than that?
Not only is it a celebration of the fine products that all of our brilliant British farmers produce, but it also highlights the processes and hard work that actually goes into making the produce that will eventually reach our shelves.
The Red Tractor logo indicates that the food we purchase is not only British, but can be traced back to the exact farm it was produced and is a quality seal of approval that you can rely on.
It's #RedTractorWeek so keep an eye out for @RedTractorFood logo when you do your shopping! https://t.co/mtGiVVXqCC pic.twitter.com/qeBTYLh3ga

— NationalFarmersUnion (@NFUtweets) September 13, 2016
This is the largest scheme of it's type in the UK, with the logo appearing on an approximate £12 billion of food and drink products on shelves and in chill cabinets up and down the land.
Providing an indicator on our products that not only is the food safe to eat, but it has been produced in a responsible manner.
During this week a number of supermarkets will be holding events across the country for farmers to actually meet the people buying their produce, we can't think of a better way to say thanks for all their hard work than by thanking them in person!
If you're buying lots of quality British Produce and need storage options then we have all manner of containers, preserve jars, sealing & wrapping and food storage box options to make sure your quality ingredients are fresh when you need them.
Our range of chilled storage options are brilliant for everything you want to keep fresh for even longer, so you can stock up on the best of British this Red Tractor Week.
If you want to find out more about British Farming and the importance of Red Tractor Week 2016, then please visit: www.nfuonline.com
For further information the Red Tractor scheme then please visit: www.redtractor.org.uk
Share