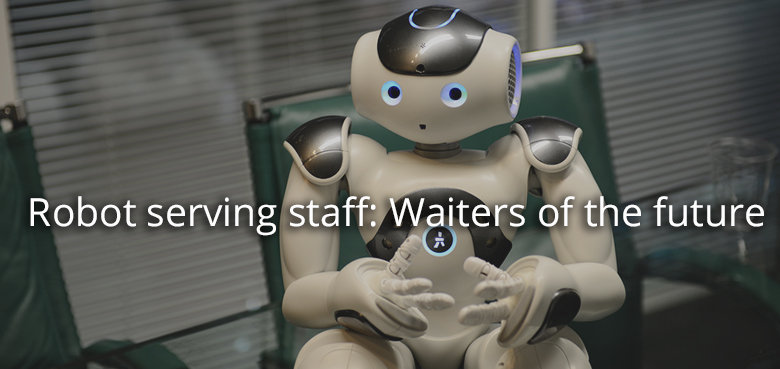 Food innovation is coming in many guises, with 3D printers providing meals, being able to order everything from our smartphone and even drones being used for delivery. We just need to take a closer look to see how technology can completely change the food service industry.
Whilst we haven't quite reached the age of robots, a Pizza Hut chain in Japan, is looking to change that with a robotic waiting experiment.
Pepper the robot is set to change the way we see waiters.
The 3ft humanoid waiter isn't just your run of the mill serving box on wheels. Pepper has been designed to interact with diners much the same way your traditional waiters would, being able to respond to questions about dietary requirements, even provide fat and sugar food content if that is requested.
Facial recognition has been programmed into Pepper, to allow it to monitor and recognise customer emotions – and change behaviour accordingly.
Unlike 'traditional' robots, Pepper is not designed to perform a set, repetitive autonomous task and could prove to be the catalyst or 'first step' into this form of technology that changes the entire system.
Created by Japanese tech and internet giant SoftBank, in conjuction with Mastercard, the little robot is not quite as fast as using your mobile phone but provides a novel approach to solving our serving workload.
Our only concern is how Pepper will cope in less than ideal conditions, customers can get irate or agitated, we hope that the diminutive little robot can cope with frustrated customers or even fussy kids.
However with intelligent voice and language recognition, Pepper would be an excellent option for international guests struggling with the local lingo.
This could prove to be the first successful steps into an autonomous, battery powered workforce that could save on staffing costs in the future or provide an alleviating option for busy establishments that allows for human staff to really up all other aspects of the dining experience.
Take a look behind the scenes on our shoot with #Pepper – The newest @pizzahut employee. #robot #tech #robotics #AI pic.twitter.com/nMFPqR6ARO

— Dan Murphy (@dan_murphy) June 10, 2016
Whilst we are still slightly unsure about the potential for a completely robotic dining experience – it might end up a little soulless – this could be a cute niche for prospective 'retro-future' dining establishments to tap into.
After all, Pepper could end up being more blunted blade than Blade Runner.
Share