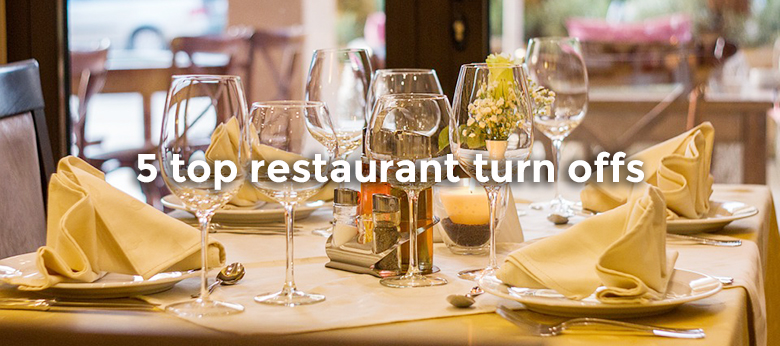 Restaurants are losing out on income and vital addition revenue through a combination of meagre customer service and abject cleaning practices, a survey by the PR group Censuswide has found.
Those questioned stated that a bad customer service experience was their biggest turn off, though it would not necessarily stop them from returning to the establishment.
More worryingly however for caterers was that over half of the participants stated that unwashed glassware would force people to think twice about revisiting whilst dirty cutlery would put people off altogether…these are the 'Top 5 Restaurant Turn Offs'…
If there is one thing that this list of things proves, it's that even the little details can ruin the dining experience. Let this serve as a warning for all caterers, restauranters, cafe owners and the remainder of the service industry that the customer is always watching! Always!
Poor service
Personal conversations, rude staff, improper conduct and a lack of personal hygiene can all fall into this category.
Waiting staff should be smartly dressed, courteous, able to build up a rapport with customers without verging on being overbearing, calm and communicative.
Whilst we can't help with staff attitude or day-to-day working, we can provide some superb smart uniforms so at least they look effortlessly classy.
Unclean bathrooms
Nobody likes to clean the bathroom, but it's a necessary evil that we all have to do whether at home or in a professional environment.
The food may be pristine, staff and chefs may not have a hair out of place and the floors may be immaculate, but grimy bathroom facilities can get people flocking out of the door.
Keeping your toilet and bathrooms clean is easy with our cleaning hardware, chemicals, hand towels and dispensers. Now you have no excuses for not having gleaming loos!
Dirty cutlery or crockery
Nine out of ten respondents stated that clean crockery and cutlery was important to them when judging restaurants, with it being serious enough to be categorised as a 'top turn off' by nearly two-thirds of people.
There's no harm in washing plates, knives and forks twice if needs be, especially if you're as well stocked as you should be!
It makes sense to have a thorough cutlery and crockery cleaning routine, but as your cutlery and crockery gets used and abused, it may need a refresh or updating.
Stainless steel doesn't stay stainless forever, and so we offer quality long-lasting cutlery, storage and more to choose from if you are due a complete equipment refresh.
Stained tablecloths
White fabrics can be an absolute nightmare to clean, just ask any parent or your fellow restaurateurs, but clean they must be.
There is simply no excuse for serving food off a table with a filthy tablecloth, we understand that a white tablecloth is a magnet for dirt and grime.
It's therefore so important to have plenty of spares to change if the dirt gets noticeable. Our range of tablecloths are designed to last, with stylish designs and at superb prices! Save the embarrassment of a filthy cloth with our quality table linen.
Dirty glassware
  photo: Garry Knight – Used under creative commons
Whether this is a big area or not could depend on your gender.
According to Censuswide's results women are more likely to complain about the state of glassware than men are: less than half of the males polled said it was a serious issue compared to nearly 60% of females.
Ensuring that you have a clean serving space and that all of your plates, bowls, cutlery, napkins and more are gleaming and fresh.
We even stock polycarbonate crockery, cultery and glassware that is almost indistinguishable from real glass, but is much more durable and scratch resistant. If you prefer the real deal, then we can also provide all manner of quality glassware options in all shapes and sizes.
Share