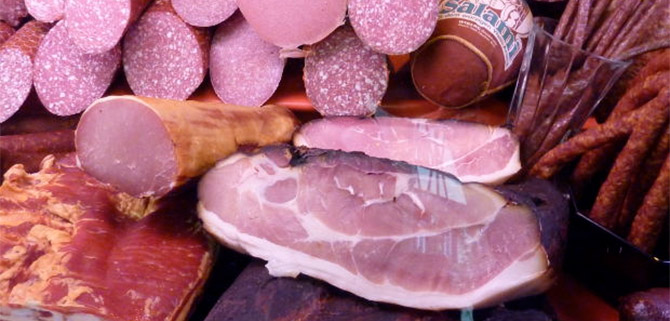 The UK is in the grip of a salmonella outbreak that has seen nine people needing treatment in hospital over the last month.
Food Standards Agency investigations appear to have traced the source of the outbreak to a particular range of cooked ham, usually sold at independent butchers.
More than 50 people have been affected by the food poisoning, aged between seven months and 87.
30 cases have been confirmed in England and another 21 in Wales but, as is often the case with food poisoning, it is expected that many more cases will go unreported.
The most common cause of salmonella poisoning is uncooked meat, eggs or dairy products.
Victims usually experience diarrhoea, stomach ache, vomiting and fevers and most will recover after a few days.
However salmonella can be more serious or even fatal for children, the elderly or those suffering from other health problems.
The current outbreak involves an unusual strain, Salmonella Typhimurium and is being investigated by a number of regulatory bodies including the FSA, Public Health departments for England and Wales and local environmental health departments.
The first cases were seen in North Wales but victims have also been seen in Leeds, Stafford, Cumbria and the Thames Valley.
While tests have been carried out on a number of products, salmonella has not been positively identified in any case.
However hygiene issues in other areas led to one supplier withdrawing its ham product voluntarily until investigations proffer further information.
The source of such illnesses can be very difficult to identify, but cooked meats appear to be the common theme here but it is not a reason to fear your local butcher, this outbreak is an isolated incident.
Small independent business often have a better knowledge of their full supply chain unlike bigger companies and brands; for instance, the ever on-going horse meat scandal.
Share