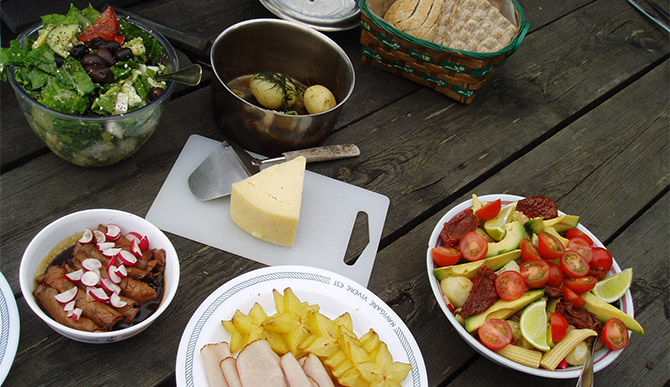 Middle Eastern food is having a moment in British kitchens.
According to Waitrose, sales of Arabic style food and ingredients have shot up, which the supermarket chain is attributing in part to TV chef Yotam Ottolenghi.
The supermarket chain now stocks more than ten varieties of its own brand houmous and reports sales of preserved lemons rising by 72% in the past year.
Similarly, harissa paste sales have increased by 62% and tahini, used to make houmous, by almost 40%.
Fattoush is a traditional Lebanese salad made with the tart, exotic tasting Arabic spice sumac.
It's also a great way of using the parsley and mint blooming in herb gardens this month.
Ingredients:
1 head romaine lettuce, roughly torn
A handful of mache (lamb's lettuce)
1 cucumber, peeled and chopped into 2cm chunks
2 large beefsteak tomatoes, chopped into
2cm chunks
3 radishes, thinly sliced
1 red onion, sliced
1 green pepper, diced
1 handful each of fresh parsley and mint
2 pitta breads
For the dressing:
2 lemons, juiced
100m extra virgin olive oil
1 heaped tablespoon sumac
2 cloves of garlic, crushed
Brush the pittas with olive oil, sprinkle lightly with sumac and slice into fingers.
Toast in a 200C oven for a few minutes until just crispy.
Add the salad ingredients to a bowl and mix well.
Place the dressing ingredients into a screw-top jar and season well, then shake well to combine.
Pour the dressing over the salad and serve decorated with the pitta fingers.
Serve the salad as part of an Arabic mezze lunch with some houmous, baba ghanoush, grilled halloumi cheese and a bowl of olives.
Share