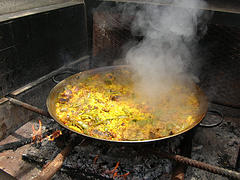 Paella is synonymous with Spanish cuisine, but after witnessing a rapid evolution of its composition in recent years, three chefs are aiming to reclaim one of Valencia's most iconic dishes from being continually debased.
Wikipaella has been created to 'police' paella, so says co-founder Guillermo Navarro. "It's a dish that's really trendy;" he laments, "and there's a lot of people taking advantage of it and selling what they call authentic, traditional or Spanish paella."
Initially, Navarro thought it was a problem unique to foreign countries, but a visit to Madrid wielded equally unsavoury results. "In Madrid, 90% of the paellas that you eat can't be compared to real paella."
Born out of this continued frustration Wikipaella was created as a beleaguered citizen's response to disintegration of the traditional dish.
One of the first steps that the website took was to create a definitive list of what was, and what was not, allowed in an authentic serving of Paella. After analysing just shy of 200 regional and local recipes, it was decided that items such as snails and rabbit were to be allowed; but no to everything else including artificial food colourings.
Navarro and his two cohorts aren't alone it taking such a rigorous approach to paella: the Saint Anthony Catholic University announced that it would be launching what it claimed would be the first Masters course in rice and paella dishes of the Mediterranean. (It sounds a course that I'd love to enroll on if I ever fancy heading back into education!)
Unsurprisingly, geography is at the heart of this issue.
Paella is actually an intensely Valencian dish. Believed to have originated from areas near to the Albufera lagoon, Paella is so intertwined with the Valencian community that it is seen as a symbol of Valencian cuisine, not a traditional Spanish entity.
And changes have gone too far in the eyes of this group of committed Valencians who have taken pot-shots at a couple of UK chefs who take liberties with their concoctions.
"But don't present [it] as something authentic or traditional, because it is not. Imagine if we said that we were making typical British fish and chips and we were putting oranges in it?" Navarro stated.
So, what do you think about this furore about paella? 
Photo: r0bz (flickr), used under Creative Commons
Share